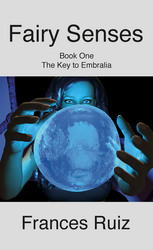 I'm excited to have been named a finalist in such a prestigious awards program. I hope this honor will attract new readers of all ages, and that it will make more educators interested in using the book in their classes
Asheville, NC (PRWEB) May 24, 2009
The 2009 Next Generation Indie Book Awards has selected Fairy Senses, Frances Ruiz's debut novel, as a finalist in two categories: Young Adult Fiction and Science Fiction. The Next Generation Indie Book Awards were established to honor the most exceptional independently published books of the year. They are open to independent publishers worldwide and are presented by the Independent Book Publishing Professionals Group.
Fairy Senses is a young adult contemporary fantasy novel aimed at readers ages 12 and up. It focuses on a girl named Kelly who learns that she is half-fairy when she turns fourteen. This discovery means that everything she has ever been told about her absent father is a lie, but before she can uncover the truth about her past she is drawn into a perilous struggle against powerful new enemies.
Fairy Senses, which is the first book of The Key to Embralia trilogy, has been well received by readers, and has recently been adopted as a read-aloud book for third and fourth graders in an elementary school in Philadelphia, PA.
"I'm excited to have been named a finalist in such a prestigious awards program. I hope this honor will attract new readers of all ages, and that it will make more educators interested in using the book in their classes," says Ruiz.
About Frances Ruiz
Frances Ruiz is a native of Asheville, NC. She holds a degree in Creative Writing with an additional major in Spanish from Carnegie Mellon University in Pittsburgh, PA. She has traveled to and lived in several different countries, including Argentina, Spain, and Austria. For more information about Fairy Senses (ISBN: 978-0-9818880-0-2), please visit the website of Hinterland Sky Press.
# # #