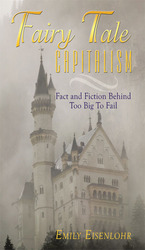 Madison, CT (Vocus) October 19, 2010
The collapse of the U.S. stock and housing markets and the subsequent credit crisis have left many Americans asking how it could have happened. However, to understand how the collapse happened, one must first understand how the huge systemic bubble that led to the collapse was built. Fairy Tale Capitalism: Fact and Fiction Behind Too Big To Fail (published by AuthorHouse) by financial analyst Emily Eisenlohr breaks down the evolution of the financial bubble and brings simple perspective to a seemingly daunting question.
Fairy Tale Capitalism is a brief history of how the biggest banks became 'Too Big to Fail'. The book peels away the fictions and presents the facts. Although reforming the financial sector may be complex, understanding how systemic risk grew is rather simple. Fairy Tale Capitalism puts the puzzle together one piece at a time.
Political leaders and Big Bank CEOs would have the public believe that the systemic bubble and its bursting resulted from human greed, global financial developments and regulatory neglect -- all outside the control of Congress. Fairy Tale Capitalism demonstrates the fiction of that claim. The real history is that Congress played a huge role in building the systemic bubble.
Congress can't claim it wasn't informed. In quote after quote Fairy Tale Capitalism uses public information to show how Congress had been well informed about systemic risks. Public hearing testimony and Congressionally-mandated reports alerted Congress to the risks of derivatives, regulatory gaps and the poorly understood relationship between the biggest banks and hedge funds. Yet all this information was ignored.
Focusing on current Congressional leadership, Fairy Tale Capitalism shows how the financial sector ensured Congress's support. Those in the financial sector turned their rising incomes into bigger campaign donations for Congressmen whose power grew with their seniority.
Fairy Tale Capitalism is the perfect primer for anyone interested in or engaged in national public policy and our government.
About the Author
Emily Eisenlohr is a financial analyst, specializing in credit analysis and policy advocacy. She spent two decades in the financial sector as a corporate banking executive and credit analyst for some of the biggest financial institutions in the U.S. including Citibank and Moody's Investors Service. Eisenlohr, a Chartered Financial Analyst, received a B.A. with honors from Mount Holyoke College, with a major in music and a minor in biology. Her M.B.A. is from the University of Chicago.
AuthorHouse is a premier book publisher for emerging, self-published authors. For more information, please visit http://www.authorhouse.com.
###