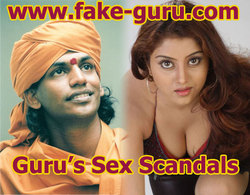 People have to realize that they are their own gurus in their hearts. You can take responsibility yourself for your actions
New York, NY (PRWEB) March 12, 2010
On 10th March a new online forum opened its pages to the world wide web: http://www.fake-guru.com. It is a forum in which you can share your own experience and discuss what is happening with religious and spiritual minded people in this world and how, as the administrators of the forum express it, leaders like gurus, swamis and godmen make a business out of spirituality and use it as a cover for illegal and rather unholy activities.
"It is time to make people aware that the spiritual leaders whom they are following in complete and blind trust are not as holy as they seem," says Swami Balendu, who had the idea of starting this new portal for exchanging and exposing fraudulent spiritual leaders in order to prevent innocent spiritual seekers from being cheated upon.
"Daily media discovers new cases of child abuse, sexual abuse of followers, exploitation, cheating and even rape by these so-called gurus. More and more of these fake gurus are exposed and it comes to light that they are in sex scandals, run prostitution centers and enrich themselves, all under the cover of spirituality and in the guise of Gods on earth. We want to make people aware of it even before they become followers and disciples. People have to realize that they are their own gurus in their hearts. You can take responsibility yourself for your actions," Swami Balendu explains. And this is how he invites everyone and especially former disciples and followers to join the new forum and support this cause.
Being a Swami himself he adds that he was in the 'guru business' himself for years before he retreated into a cave for more than three years. Coming out he realized that 'no human is higher or lower than another.' Now he is working to help people on their way, without being a guru, 'just as a friend' and this new forum is only a part of this. You can read more about his work on his website http://www.jaisiyaram.com
Topics that you can read and write about on this forums are:
Recently Exposed – Gurus that have been stripped recently, the media coverage, what really happened, rumours and more…
Selling Enlightenment - 5000 Dollar for a 4 weeks course of enlightenment and similar stories...
Magic and Miracles - Modern times and medieval methods. Cheap magic tricks, materializations, bleeding statues, levitations and other ways of attracting innocent seachers.
Creating Fear - Hell, another 10000 lives on earth, evil spirits and curses - threats that make willing disciples do whatever the guru wants
Future Telling and Clairvoyants - A proof of supernatural and nearly divine powers: the ability to know what will happen. Who knows?
Gods on Earth - If self-declared or announced by their followers, these gurus are just divine - or maybe not? Different Avatars and incarnations you may or may not believe.
Let's talk about Sex... - In spite of the claim of celibacy and abstinent living there are again and again media reports of sexual abuse, orgies, prostitution and other scandals. Read reports and discuss what is true and what is not.
Experiences of former disciples and followers - Here you can tell your story. Who was your guru, did you leave him or were you kicked out and of course why?
And although there is no such topic on the forum yet, the administrators point out that it is not only an issue of Hinduism or Asian countries but that things are amiss with spiritual leaders all over the world and in all different religions.
The encouragement of the enthusiastic founders: "Join the fake-guru.com forum and help us spreading awareness about the things that are going on so that no more people have to experience being cheated upon!"
###