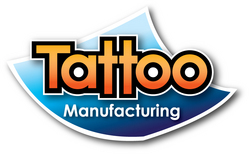 This positive development is a definitive validation of TM International's licensing strategy
Tucson, AZ (Vocus) July 13, 2010
TM International, the largest manufacturer of temporary tattoos in the world, announced a licensing agreement with Bajito Onda Community Development Foundation, a 501(C)(3) non-profit working to better the lives of at-risk youth and ex-offenders by providing opportunities for creative expression and training in graphic design and printing. The agreement gives TM International exclusive worldwide licensing rights to develop Bajito Onda's extensive portfolio of art for tattoos, stickers, and canvas product.
"This positive development is a definitive validation of TM International's licensing strategy," said Stephen Tooker, President and CEO of TM International. "As a global leader in production of temporary tattoos, we are excited to diversify our product line with the integration of Bajito Onda."
Bajito Onda's Founder, Del Hendrixson, began working to empower at-risk youth and rehabilitate ex-offenders in 1982. "Through education, art and graphic design programs, we give kids a reason to stay off the streets and adults an opportunity to earn a living and find purpose in low socioeconomic neighborhoods that are oftentimes violent."
"The authentic art of Bajito Onda along with TM International's significant production and distribution capabilities makes a natural partnership and a significant addition to the TM International portfolio of art," said Damon Safranek, Director of Corporate Planning and Strategy for TM International.
TM International plans to begin distribution of the licensed product through the company's division, Vending Supply (VSi). VSi distributes flat vending products, including tattoos and stickers, worldwide for the bulk vending industry.
"In vending there is a large market for urban products," said Heather Nathanson, VP of Marketing for TM International. "This is the first series of its kind that is not simply meant for the urban market, but is created by the urban market."
About TM International:
TM International (TMI) is the largest manufacturer of temporary tattoos in the world. TMI is a global leader in the design and printing of custom, specialty and novelty products. Only non-toxic, hypoallergenic inks are used. Printing processes are FDA certified and comply with CSPC and ASTM requirements. The company is owned and operated by its management team and financed by Grayhawk Capital in Scottsdale, Arizona. TMI has two lending partners: Arizona Business Bank in Phoenix, Arizona and Peninsula Capital in Detroit, Michigan. TMI has been proudly offering Made in the USA products since 1989. Divisions include Tattoo Manufacturing, SAVVi (http://www.savvistuff.com), VSi and ArtBlok (http://www.artblok.com).
###