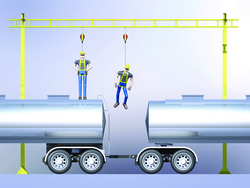 Traditional wire rope systems can be difficult to accommodate large lateral loads structurally and can create potential failure points
Morgantown, PA (PRWEB) July 9, 2009
SPANCO, a leading crane manufacturer that also produces Rigid Lifelines fall protection systems, announced a new line of long span fall protection Tuesday that uses 60% less steel over conventional designs.
This latest line of long span fall protection is primarily designed to provide long spans of coverage in rail car applications, but continues SPANCO's commitment to providing industry-leading and guideline exceeding fall protection systems for manufacturing workshops in a variety of industries.
In 2008, there were nearly 5,000 violations of fall protection discovered by OSHA. Citations produced by OSHA in response to violations are issued directly to companies, with some violations costing over $100,000.
OSHA is clearly getting more serious about protecting workers. It's time for companies to get more serious about fall protection.
"Traditional wire rope systems can be difficult to accommodate large lateral loads structurally and can create potential failure points," said Arnie Galpin, SPANCO's engineering manager. Galpin has more than 24 years of experience engineering safety components compliant to OSHA, ANSI, and European Machinery Directives. In addition to having over 24 years of experience in safety engineering, Galpin also serves on four ANSI/ASSE Z359 subcommittees dedicated to increasing workplace safety.
Wire rope fall protection is widespread, and OSHA approved. On a standard 40-feet long wire rope system, the cable cannot prevent a worker from falling at least three feet due to rope sag. For workers on a tanker truck or rail car, the three feet of rope sag can extend a fall to around eight feet. Risk of injury to the head or body during this extended fall is high, as the worker will come into contact with metal outcroppings, ladders, or, in worst cases - the ground.
In contrast to wire rope systems, Rigid Lifelines fall protection systems are built using a rigid horizontal track. A self-retracting lanyard is connected to the track via an eye bolt on a moving trolley for easy lateral movement. During a fall, Rigid Lifelines provide protection from a fall as soon as the self-retracting lanyard locks.
The benefits of the Rigid Lifelines system? No sag. No additional fall. No increased risk of injury.
"SPANCO's upper management is very proactive in product development and innovation," said Galpin. "We try to foster an open environment where our team of engineers is free to dream up, test, and create the greatest solutions to the latest issues facing the fall protection community."
Rigid Lifelines fall protection systems exceed OSHA standards and ANSI guidelines through the use of the horizontal steel track system. This industry-leading track system also eliminates potential hazards created by the elements in four season climates.
In addition to being more secure than wire rope fall protection, Rigid Lifelines are also cost-competitive with wire rope systems. Available in standard configurations with increased portability and effortless rolling resistance, Rigid Lifelines' new long span systems can be manufactured for multiple uses:

Single bay use to cover one rail car track
Twin bay use, where one system can cover two rail car tracks with one set of support posts.
Currently, SPANCO is the only manufacturer of fall protection systems with a full catalog devoted specifically to rigid lifeline products with a distributor network across the US and Canada.
To learn more about fall protection you can trust, visit our website for a free cost/benefit analysis and Rigid Lifelines product brochure.
SPANCO, Inc. is an industry leading crane manufacturer that produces freestanding, cantilevered rigid track fall protection systems under the brand name Rigid Lifelines. Since 1979, SPANCO has taken great pride in providing cost effective lifting, moving, and fall protection systems while continuously reaching new levels of innovative design and safety. Learn more about rigid track fall protection you can trust and start protecting your valued workers by calling (800) 869-2080 or visiting us online at http://www.spanco.com.
###