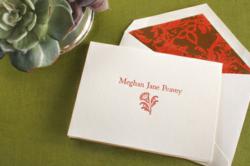 Like fashion, personal stationery is an expression of individual style," observes Meghan Carey, Art Director for Vera Wang Fine Papers.
West Kennebunk, ME (PRWEB) October 03, 2012
It's fall. The kids are back in school, evenings are cooler, and it's time for the annual fall wardrobe switch, replacing bathing suits and shorts with sweaters and slacks. Fall is also the time of year when many people update their stationery wardrobe.
"Stationery sales always go up in the fall," notes Melissa Pritchard, an Art Director at stationery manufacturers William Arthur, Inc. "People are getting back into work mode, organizing their lives and re-connecting with others, often in anticipation of holiday socializing. We see a lot of notes and correspondence cards being sold this time of year."
Just as people buy new clothes in the fall, so do they update their stationery wardrobe. "Like fashion, personal stationery is an expression of individual style," observes Meghan Carey, Art Director for Vera Wang Fine Papers. "Many of our customers have multiple stationery pieces, depending on the occasion, the recipients, or simply their mood. Just as clothing conveys a sense of identity, personal stationery gives an immediate impression. Fine stationery consumers genuinely appreciate beautiful papers and exceptional printing, and see stationery as a reflection of their taste. Fall is a natural time to update one's stationery wardrobe." Consumers aren't just buying fine stationery for themselves. "We sell a great deal of stationery as gifts at this time of year as well," continues Pritchard. "It's a special thing to give because it's personal, beautiful, and shows real thought on the part of the giver. And recipients are so appreciative! After all, who doesn't enjoy seeing their name in print?"
"We just put out a new stationery collection with a wide range of typestyles, motifs and ink colors. Our customers tell us how gratifying it is to select and personalize stationery. Every fall we hold our popular 25 Free promotion on personalized stationery, this year being no exception. Buying someone personalized stationery is an ideal way to give what is literally a one-of-a-kind gift that's unique to the recipient."
ABOUT WILLIAM ARTHUR
William Arthur stationery, invitations, announcements and holiday cards are renowned worldwide for beautiful designs, substantial paper stock, rich embellishments and exceptional printing.
For more than 60 years, William Arthur's fine stationery products have helped people turn special moments and once-in-a-lifetime occasions into lasting memories. At their home in West Kennebunk, Maine, their craftspeople keep the techniques and traditions of fine paper and printing alive, combining time-honored print methods with state-of-the-art design and technology. Simply put, they are passionate about creating beautiful stationery. That passion is shared with their customers by providing exquisite products and extraordinary service.
View their extensive collection at http://www.williamarthur.com. To find an authorized retailer, select the "Find a Dealer" link.