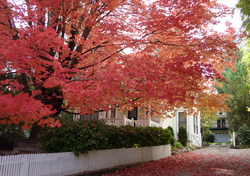 Peak fall color weeks in Nevada City and Grass Valley are difficult to predict but mid-October to Thanksgiving is usually a most colorful time.
(PRWEB) October 20, 2010
The twin cities of the Northern Sierra Foothills have published The Fall Colors of Nevada City & Grass Valley to highlight the most brilliant displays in Northern California. And NOW peak season is approaching!
Enjoy vibrant fall color displays located in the neighborhoods surrounding the historic towns. Century-old maple trees are transformed into brilliant masses of color that frame beautifully restored Victorian homes and pristine church steeples.
Cooler weather, fewer visitors, and the changing colors of the landscape make a fall visit to a state park a memorable experience. Just a 30 minute drive from either Grass Valley or Nevada City through stunning countryside, the South Yuba River State Park at Bridgeport offers scenic fall foliage vistas set against a calmer Yuba River, winding hiking trails and at 251 feet, the longest single span covered bridge in the United States.
Fall weather conditions at 2,500 feet in the Sierra foothills favor the formation of brilliant colors in the landscape. As the days grow shorter, photosynthesis slows and less chlorophyll - which makes leaves green is produced, allowing other pigments to become more visible.
It is often thought that Jack Frost is responsible for the color change, but he really isn't. Fall leaves often begin to change before the first frost.
Nevada County – with its outstanding Gold rush history, outdoor fun and wide choices in lodging and dining - makes for a great weekend or three day getaway for those who enjoy fall colors.
Peak fall color weeks in Nevada City and Grass Valley and the surrounding area are difficult to predict but mid-October to Thanksgiving is usually a most colorful time. Fall foliage color tour maps are available and visitors may call ahead to check day to day conditions.
Local diversions include museums, galleries, theatre, boutique shopping, Empire Mine and South Yuba River State Historic Parks, hiking and biking trails, lakes and rivers. Lodging choices include historic and resort hotels and quaint bed & breakfast inns. The surrounding area features several picturesque wineries and a number of wine tasting rooms are found in the historic downtown districts.
Nevada City and Grass Valley are located a short 60-mile drive northeast of Sacramento. From the capital, take eastbound Interstate 80 to Auburn and then drive north on Highway 49. From Reno, take westbound I-80 and State Route 20, a pleasant 80 mile drive.
For visitor information, call the Nevada City Chamber of Commerce at (530) 265-2692 or toll-free (800) 655-NJOY, or the Grass Valley/Nevada County Chamber of Commerce at (530) 273-4667 or (800) 655-4667.
For the most up-to-date Calendar of Nevada County Events, itineraries, photos and more ideas about great Nevada County pastimes visit http://www.explorenevadacounty.com.
###