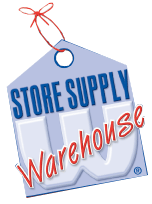 When retailers care about their presentations, customers enjoy their shopping experience more.
St. Louis, MO (PRWEB) September 21, 2012
With fall quickly approaching, retailers are preparing by not only enhancing their store displays, but also by adding autumn-style store supplies throughout their stores. Whether their shops are bringing in this season's latest fashions or they are setting up their pumpkin patch displays outside, retailers are completing their units with fall supplies. Store Supply Warehouse, a St. Louis based retail supply company features a wide selection of supplies, from the retail displays to the retail packaging, to prepare store owners for the fall season.
For retailers setting up fall display units, Store Supply Warehouse has a variety of options. Using wire grid units in black and raw steel or wood displays, retailers can easily present fall merchandise in an attractive fashion that matches the season. Grid wall units are especially useful for hanging clothing and costumes. Wooden displays are always a popular choice for setting up merchandise displays with fall decorations.
"We have found that our wooden displays have been effective as outdoor displays, especially at pumpkin patches," says Matt Wohlstadter, President of Store Supply Warehouse. "To display pumpkins, preservatives, and autumn adornments, we feature wooden racks, panels, and baskets that not only match the feeling that the season brings, but to also create reliable presentations for any kind of merchandise."
In addition to display units, Store Supply Warehouse sells a variety of small store supplies to complement your store's fall décor. Colored shopping bags tend to be a popular item during the fall, as retailers can mix and match browns, oranges and greens to send customers home with their merchandise in a nice fall fashion.
"Fall gives retailers an opportunity to use colors that they might not otherwise consider, especially burnt orange, storm gray, hunter green, and chocolate. The fall colors really enhance the mood in the shops, and it gives customers a reason to come back. When retailers care about their presentations, customers enjoy their shopping experience more," adds Wohlstadter.
Store Supply Warehouse features a wide selection of other store supplies that can be used for fall and winter displays. To view their products or request a catalog, please visit their website: http://www.storesupply.com/.
About Store Supply Warehouse
Store Supply Warehouse was founded in 1994 in St. Louis, and has since seen immense growth, selling retail fixtures and retail store supplies, including display cases, racks and shelving, shopping bags, hangers, pricing and tagging guns and mannequins. The distribution chain takes pride in its quick transaction process, efficient delivery, and quality customer service. Products are available for purchase through Store Supply's catalog, which is updated and distributed four times a year, or online at http://www.storesupply.com. Same-day shipping is guaranteed on all orders placed before 3 p.m. The company's main office is located at 9801 Page Avenue, St. Louis, Missouri, 63132. Contact Store Supply directly at 800-823-8887 or by email at contactus(at)StoreSupply(dot)com.