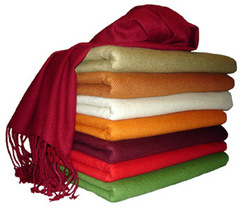 Dark chocolate brown was extremely popular last fall and this year its popularity continues
Humble, TX (PRWEB) October 1, 2007
The Pashmina Store announced that its top selling fall colors across all shawls, wraps and scarves include traditional favorites black and natural off white along with dark chocolate brown, silver grey, cranberry, purple and midnight blue. While these same colors are favorites for wedding and bridesmaid gifts, there is also noticeable popularity for gold, sage green and burgundy. In the animal prints category, cheetah and leopard lead the pack.
"Dark chocolate brown was extremely popular last fall and this year its popularity continues," said Nattakitta Rhodes, Vice-President of Design for The Pashmina Store. "In general, darker shades appear to be in this fall season with the dark reds and navy blue leading the way. For weddings and bridesmaid gifts, silver and gold are certainly a popular trend right now."
Each year, The Pashmina Store closely monitors sales in the six week period leading up to October. Sales during this time typically indicate with great accuracy what fall color trends are and what will be the top selling colors throughout the fall season. The colors include sales at the Company's website and those received by phone or mail orders. Last year's top-selling fall colors included bright red, champagne and burnt olive.
A Texas-based online retailer known for its consumer-friendly prices and the quality of its merchandise, The Pashmina Store offers only the finest pashmina and cashmere products that also come in a wide variety of solid colors including 2- and 3-ply wraps, cashmere blankets and scarves.
About The Pashmina Store:
Established in 2003 by Blair Rhodes, The Pashmina Store website was born with the idea of going direct to the consumer to keep prices low and reach as wide an audience as possible. In early 2000, the family visited Nepal, and developed a great appreciation for pashminas. Seeing firsthand the care and tradition that goes into the making of pashmina goods, they developed a desire to share them with as many people as possible. Blair's mother, Charlene, started out doing "pashmina parties." The Pashina Store offers affordable prices on top quality pashmina and cashmere goods and free standard shipping in the United States.
Media contact:
Sue Hecht
The Winning Pitch
702-225-8206
###