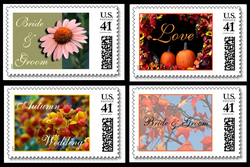 Boston, MA (PRWEB) July 23, 2007
Building on the recent successful launch of its growing wedding stamp collection, ArtisticPostage.com has released its line of new wedding stamps just in time for brides to use on their fall wedding invitations. The fall wedding stamps use earth tones and natural autumn color schemes as well as traditional fall icons such as pumpkins, colorful foliage, and autumn floral arrangements to evoke the feeling of the season and of the special occasion.
Stamp design elements include TDSwhite's original photography and cyber art as well as the popular choices of monograms and wedding phrases. Of course, most of the postage can be customized so brides are able to create unique stamps by choosing their own wording or phrasing if they prefer.
Stamp designer TDSwhite says, "Fall weddings often have a special color scheme or decorative theme that should be consistent throughout. The new fall wedding stamps at Artistic Postage allow brides and wedding planners to bring that level of detail to their wedding invitation postage. Guests will notice and remember that extra touch."
The wedding stamp selection at ArtisticPostage.com gives brides so many options that they are sure to find the perfect postage to complement their wedding stationery. Popular photo stamps include roses and rose backgrounds, other flowers, wedding rings, and pearls. Wedding design stamp favorites include wedding cakes, hearts, and many variations of love stamps.
For more information and to view the many new wedding stamp choices available, visit the Wedding Stamps page at ArtisticPostage.com.
ArtisticPostage.com offers hundreds of customizable wedding photo stamps and wedding design stamps including monograms, wedding phrases, and more. Stamps are sold in sheets of twenty. They are available in three physical sizes and seven denomination levels ranging from postcard and one ounce first class through priority mail.
http://www.ArtisticPostage.com - A Company To Stick With
Matthew W. Grant
401-527-8366
Info @ ArtisticPostage.com
###