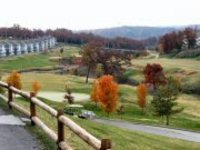 Branson, MO (PRWEB) September 25, 2009
September brings the start of many fall activities: school, football season and more. It also marks the start of another tradition that many return to year after year - Fall Color in the Ozarks. Located in the heart of the Ozarks, Branson is a prime destination for many fall color tours. From perfect weather, scenery, and scenic log cabins in Branson, this is an ideal place for fall colors. But before traveling experts have a few tips for the best fall color experience.
The first consideration in an Ozarks fall tour is timing. The peak fall color varies year by year and is mostly dependent on October weather. The weather needs to be cool, but not so cool that hard frosts are possible. In the Branson area, this process usually starts in late September, and hits the peak in mid-October. Color peaks later further south as well, so day trips to Eureka Springs or Little Rock, Arkansas can make for some fantastic drives.
The local geography is another factor in choosing the best place for color viewing. Branson and the Ozarks are known for their wooded hills and valleys. In general, colors start to change in valleys and along rivers early and later towards the hilltops. This makes for many amazing views as visitors drive through the hills seeing color changes around every turn.
To get the most of the fall color experience, guests will want to spend at least a weekend in the Ozarks. Branson is known for live music and theaters, so after spending a day exploring the countryside visitors can relax and take in a show. Branson is also home to lodging options that will make the most of a fall experience. In the fall, Branson log cabins are one of the most popular choices, and for good reason. Most log cabins in Branson are located in wooded areas where visitors can view the changing colors right from their back porch. Additionally, the cabins have all the amenities of home including fully furnished living rooms, dining rooms and kitchens. Guests to Branson this fall are sure to be in for a show-both from the Branson performers and mother nature. Scenery lovers are encouraged to make plans now to see Fall in Branson and the Ozarks.
###