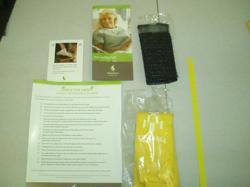 Jackson, MI (PRWEB) May 20, 2011
Midbrook Medical, the Jackson, MI, based manufacturer of custom fabricated medical equipment and decontamination systems recently worked with a local hospital to develop and package fall prevention kits. This partnership allowed the hospital to have a large supply of high quality kits on hand to protect patients at risk from falls.
News articles about the dangers of hospitals are becoming increasingly common. Negative publicity from healthcare acquired infections and other problems are a constant threat to the public perception of healthcare facilities. In response to this, hospitals are always searching for new ways to protect their patients and make sure their facility is doing everything they can to keep everyone healthy.
The extra measures taken to protect patients do not have to be complicated. For example, a serious risk for elderly or weak patients is the danger associated with falling. A patient fall can lead to any number of complications that can have a devastating impact on their health. To deal with this risk, hospitals carefully identify which patients are most likely to suffer a fall and then supply them with additional safety materials such as non-slip socks, gripping pads, and special wristbands to help identify them as potential fall risks. Fall prevention kits like these have been shown by recent studies to be effective in reducing the number of falls, especially among elderly patients.
Supplying these fall prevention kits is a simple way to lessen the likelihood of serious falls. Unfortunately, many hospitals are unable to consistently provide them. In a busy hospital, it can be difficult to find time for employees to package all of the necessary materials into the kit. In trying to protect patients from falls, hospitals can actually put them in more danger by diverting employees from their regular duties so that they can package fall prevention kits. Some hospitals attempt to get around this problem by having volunteers package the kits, which creates a different issue. By passing the job off to volunteers, it becomes difficult for the hospital to maintain a consistent level of quality. The facility would have to check each kit to make sure everything is packaged correctly, which takes up any time that was saved by having the volunteers package them in the first place.
The most viable solution to both save time and have the kits packaged correctly is to contract out the work.
Recently, Midbrook Medical, the Jackson, MI, based manufacturer of custom fabricated medical equipment and decontamination systems was approached by a local hospital facing this exact situation. They had been using volunteers to package the kits, but were unhappy with the quality and inconsistent supply.
Midbrook Medical stepped in an offered to use their production capabilities to prepare the fall prevention kits. Midbrook Medical worked with suppliers to ensure that the items in the fall prevention kits were of high quality and competitively priced. Midbrook then handled all purchasing, all labor to assemble, all supervision, and all pre-shipping inspection. This ensured that the kits were complete, and also allowed the hospital to avoid shortages by maintaining a consistent supply.
Midbrook Medical has a large production facility that can be used not only to package fall prevention kits, but also for any number of other applications that a hospital may not have the time, space or experience to perform themselves. Rather than run the risk lowering quality due to these issues, the facility can contract the job to Midbrook and allow them to use their experience to develop a detailed process that will ensure a high quality result.
For more information about Midbrook Medical and its production capabilities visit http://www.midbrookmedical.com, or call 1-517-787-3481.
Midbrook Medical is the minority owned, women owned, Michigan based solution provider to the Healthcare market. Midbrook is not a medical company looking to be a copy cat distributer of decontamination equipment. Rather, Midbrook is the world leader in custom designed, process specific cleaning equipment focused on taking the expertise learned in other industries and applying it effectively to issues within the medical industry in order to provide cleaner instruments that will, in turn, make sterilization more effective.
###