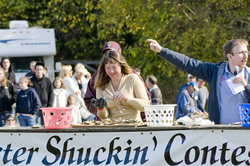 Fall foliage, family-friendly festivals, young children, hay rides, pumpkin patches and theme park adventures abound in Virginia.
Richmond, VA (PRWEB) September 15, 2010
Fall in Virginia is a terrific time for loved ones to relax and reconnect as the change of season offers fun-filled festivals. Harvest celebrations pay tribute to the bounty of Virginia's farms and orchards. Foliage festivals celebrate Virginia's 15 million acres of magnificent fall colors. Family-friendly festivals entertain young children with hay rides, corn mazes and pumpkin patches, while haunted houses and theme park adventures offer thrills. Couples can enjoy music, arts and food festivals as part of a weekend getaway.
Whatever the age, people will find a festival that suites their interests in Virginia. Below are some of Virginia's fall festival highlights. Find these and many more at http://www.virginia.org/fall.
Bristol Rhythm and Roots Reunion– Bristol, September 17 - 19, 2010
The Bristol Rhythm and Roots Reunion stars national, regional and local music and entertainment in celebration of the musical heritage and culture of Bristol. The weekend will offer a wonderful blend of Celtic, Gospel, Country, Bluegrass, Americana and Old Time music which will definitely give attendees a strong choice of entertainment for the weekend.
Admission Fee: Weekend $40
Emporia's 48th Annual Virginia Peanut Festival– Emporia, September 23 – 26
Celebrate famous Virginia Peanuts, farmers and the fall harvesting season at the Virginia Peanut Festival with storefront displays, a parade, arts and crafts, antique farm equipment, a quilt show, a peanut cook-off, music and great food.
Admission Fee: FREE
The Virginia State Fair– Doswell, September 23 - October 03, 2010
The State Fair of Virginia makes its second appearance in its new home at Meadow Event Park. This year's state fair will have all the great rides and attractions along with nightly concerts from acts such as country stars Jason Michael Carroll and Luke Bryan, rock group Plain White T's and Motown legend Percy Sledge.
Admission Fee: varies
South Boston Harvest Festival- South Boston, September 25, 2010
This festival has something for everyone, young and old alike. Crafters line the streets with handmade items. Music fills the air from the three stages of live entertainment. The kids will enjoy the pony rides, face painting, pumpkin painting, scarecrow making, balloon sculpting, clowns, magicians and the moonwalk.
Admission Fee: FREE
Autumn Days Celebration in Shenandoah National Park – Luray, October 2, 2010
Shenandoah is certainly known for its vibrant fall color season. Deep purple dogwoods, bright red Virginia creeper vines, and yellows and oranges of hickories and birches are just a few of the fall color highlights. The event includes children's activities, local crafters, German foods and beers along with traditional fare and live entertainment.
Admission Fee: FREE
Mountain Magic in Fall Bluegrass, Antiques and Crafts Festival – Buchanan, October 2, 2010
As Botetourt County's oldest and consecutively longest running Bluegrass Festival, Mountain Magic in Fall celebrates its heritage through music, crafts, history and architecture. The day's activities also include the area's largest antique and craft show, antique auto show, interpretive history displays and food.
Admission Fee: FREE
Richmond Folk Festival– Richmond, October 8 – 10, 2010
The annual Richmond Folk Festival is a multi-cultural celebration of traditional music, dance, food, and crafts, presenting the arts of many nations, races and languages at the same event on an equal footing. Over its three days, the free to the public event attracts crowds in excess of 185,000. The festival features 30 acts throughout the weekend on six outdoor stages.
Admission Fee: FREE
Chincoteague Island Oyster Festival – Chincoteague, October 9, 2010
This event promotes the seafood industry and marks the arrival of the oyster season. This is an all you can eat affair of local oysters prepared many different ways, crabs, hush puppies, clam chowder and much more. There will be live entertainment, souvenirs, raffles and contests.
Admission Fee: $35
Graves' Mountain Apple Harvest Festival- Syria, October 9 - 10, 2010 and October 16 – 17
See nature's way of blanketing the mountains with beautiful fall colors and enjoy fun-filled days complete with Graves' Mountain famous food, live Bluegrass and cloggers, arts and crafts, hay maze and hay mountain, horseback rides and pick your own apples. Experience farm days of yesteryear while touring the working educational farm and watch kettles of apple butter cook over an open fire.
Admission Fee: FREE
Fall Foliage Bike Festival – Staunton, October 15 - 17, 2010
Visit the Queen City of the Shenandoah Valley for the Fall Foliage Bike Festival and discover the many attractions of the historic city of Staunton - shops, theater, fine restaurants plus a well- planned bike event. Well-marked routes, new route options, plus a dance on Saturday night are just a few of this year's festival highlights.
Admission Fee: varies
Fall Harvest Family Days- Mount Vernon, October 23 - 24, 2010
The four-acre George Washington: Pioneer Farmer site celebrates the harvest season with free horse-drawn wagon rides, a straw bale maze, outdoor cooking demonstrations, an opportunity to meet "General Washington," and the chance to learn how to dance 18th-century-style.
Admission Fee: $15/adults; $7 child
Pumpkin Glow Night – Loudoun, October 29-30
At Great Country Farms in Loudoun County, experience a spectacular display of over 1500 carved and lighted jack-o-lanterns illuminating the night sky during Pumpkin Glow Night. Enter a Jack-o-lantern in carving competition, warm up by the bonfire, roast marshmallows and enjoy an evening of memories in the country.
Admission Fee: $10; Children under 2 are free
Urbanna Oyster Festival– Urbanna, November 5 - 6, 2010
Urbanna Oyster Festival "A Salute to the Oyster," the Official Oyster Festival of the Commonwealth, includes food, arts and crafts, fireman's parade, oyster festival parade, waterfront educational activities and entertainment. Meet the Oyster Festival Queen, Little Miss Spat and watch oyster shucking contests.
The Saturday parade of the Urbanna Oyster Festival has become the focal point of the weekend. It has grown from an event featuring antique cars and floats to a parade encompassing a large Shriners contingency, numerous marching bands and beauty queens from across the state.
Parking Fee: Friday parking is $10 and Saturday parking is $20
Smith Mountain Lake Fall Chili & Craft Festival – Moneta, November 6, 2010
Savor the essence of fall with chili at the Smith Mountain Lake Fall Chili Festival. This fall event captures the best of everything with plenty of activities, great chili for tasting, musical entertainment, craft vendors, awards and a beautiful lakeside setting.
Admission Fee: $5; kids free
Virginia Gourd Festival– Middletown, November 6 - 7, 2010
This is a unique marketplace for anyone enjoying folk art and learning from the artisans themselves how to create gourd art.
Admission Fee: FREE
Love is at the heart of every Virginia vacation. Visit http://www.Virginia.org for more information or call 1-800-VISITVA for a free Virginia is for Lovers travel guide.
###