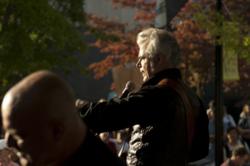 Virginia is brilliant for fall getaways as 15 million acres of foliage burst into spectacular color...
Richmond, VA (PRWEB) August 28, 2012
Virginia is for Lovers is about love – pure and simple. It's about spending time with those you love, doing the things you love to do on a great vacation. Virginia Tourism Corporation declares the fall season to be perfect for couples, families, friends and people from all walks of life looking to create new traditions by enjoying the variety of festivals and events the state has to offer.
Virginia is brilliant for fall getaways as 15 million acres of foliage burst into spectacular color. Local farms transform into family playgrounds with harvest festivals, corn mazes and hay rides through pumpkin patches. Wine makers celebrate the harvest at more than 200 wineries statewide and Virginia's scenic roadways show off the state's stunning natural beauty.
The fall festivals listed below are just a few of the favorites that happen each season in Virginia, with many more listed at http://www.virginia.org/fall.
Bristol Rhythm & Roots Reunion– Bristol, September 14-16
This infectious, three-day music experience, bursting with creative passion, electricity, and soul is a celebration of Bristol's heritage as the Birthplace of Country Music. The Reunion offers something for everyone attending the festival with 22 stages of live music, a dance tent, 16 indoor venues and a children's stage. Admission Fee: $40
Neptune Festival– Virginia Beach, September 28- 30
The 39th Annual Neptune Festival is a favorite fall tradition in Virginia Beach. Visitors flock to the three-mile boardwalk to take in the stunning creations of the North American Sand Sculpting Competition, which is one of 35 events that take place as part of the festival. The boardwalk weekend includes the Grand Parade and three stages of entertainment. Admission Fee: Varies by event.
Rappahannock County Farm Tour & Civil War Heritage Days – Sperryville, September 29-30
This exciting two-day event allows travelers to visit Rappahannock County's farms, orchards, and wineries as they learn more about Virginia's history. By combining this year's farm tours with Rappahannock County's Civil War Sesquicentennial Heritage Days celebration not only will visitors experience fantastic food and wine, they will also be able to view encampments, firing demonstrations and other exhilarating events. Admission fee: $5 for visitors ages 16 and up.
October Virginia Wine Month: Discover Your Local Crush- Statewide, October
Virginia is a "Commonwealth of Wine" – with 200+ wineries that stretch across every region of the state. October Virginia Wine Month is an ideal time to visit Virginia wineries celebrating the harvest. From the coastal serenity of the Eastern Shore to the majestic splendor of the Blue Ridge Mountains, each wine region provides travelers with a one-of-a-kind wine experience during this month-long celebration of local wine with special events, tastings, festivals and more.
Suffolk Peanut Festival– Suffolk, October 4-7
Each fall Suffolk celebrates its peanut history with a four-day family-oriented festival. The popular event offers a variety of activities for the entire family including regional and national entertainment, fireworks, a shrimp feast, a demolition derby, peanut butter sculpture contest, carnival rides, craft exhibits and more. Admission: Free. Parking: $10 per vehicle.
Chincoteague Island Oyster Festival– Chincoteague, October 6
Virginia is quickly becoming known as the Oyster Capital of the East Coast and for good reason. Virginia is the largest producer of farm-raised oysters in the country and has the largest variety of flavors. Chincoteague oysters have the highest salinity in Virginia and are sought after each year. The Chincoteague Oyster Festival is an all-you-can-eat affair of oysters prepared many different ways. There are also crabs, hush puppies, clam chowder, hot dogs, french fries, salad bar, soft drinks and much more on the menu. There will be live entertainment, souvenirs, raffles, and contests. Gates open at 10:00 a.m. Serving begins at 12:00 noon and ends at 4:00 p.m. The Oyster Festival is held rain or shine. Admission Fee: $40.00
Mountain Magic In Fall Bluegrass, Antiques and Crafts Festival – Buchanan, October 6
Held against the backdrop of the town's historic Main Street, Mountain Magic in Fall celebrates its heritage through music, crafts, history and architecture. As Botetourt County's oldest and consecutively longest running Bluegrass Festival, Mountain Magic in Fall features a full day of live Bluegrass performances held at Center Stage, as well as the area's largest Antique and Craft Show, antique Auto Show, interpretive history displays and food.
Graves Mountain Apple Harvest Festival– Syria, October 6-21
Come see nature's way of blanketing the mountains with stunning color during the month of October. Enjoy fun-filled days complete with good food and entertainment. With over 70 arts and crafts vendors, hayrides, a hay mountain, hay maze, and horseback rides children who come to the festival will definitely be entertained. Experience life in the olden days watching apple butter being cooked in kettles over an open fire, pick apples from the orchard and stop by to visit the farm and the animals. Admission Fee: Free
Richmond Folk Festival– Richmond, October 12-14
Families will have an amazing time celebrating the roots, richness and variety of American culture through music, dance, traditional craft and food at this three-day festival held in beautiful Richmond, Virginia. The Richmond Folk Festival features more than 30 performing groups on seven live music stages with continuous music and dance performances, along with a Virginia Folklife demonstration area, children's activities, a folk arts marketplace, regional and ethnic foods and more. Admission Fee: Free
Fall Foliage Bike Festival – Staunton, October 19-21
The Fall Foliage Bike Festival is a weekend event where hundreds of cyclists gather to ride together and enjoy the beauty of the Shenandoah Valley. Staunton lies at the heart of Virginia's Shenandoah Valley. With winding country roads, wonderful descents, quaint villages and picturesque farms, Staunton is sure to provide an unforgettable riding experience.
Blue Ridge Folklife Festival– Ferrum, October 27
Called "thoroughly authentic" by the New York Times, the Blue Ridge Folklife Festival offers an unmatched day of rural entertainment and heritage. Families can join in on the fun celebrating western Virginia's folkways and rural life, with three music stages, two dozen country foods, 50 craftspeople, vintage farm tractors, hundreds of custom cars, draft horse and coon dog contests, sheep herding demos, and old-time children's games. Admission Fee: $10 for adults and $5 for children (6-15) and senior citizens (60 and Up). Free Parking
Smith Mountain Lake Fall Chili & Craft Festival – Moneta, November 2-3
This festival has something for everyone, young and old alike. Crafters line the streets with handmade items. Music fills the air from three stages of live entertainment. The kids will enjoy pony rides, face painting, pumpkin painting, scarecrow making, balloon sculpting, clowns, magicians and the moonwalk. Admission Fee: $5, Children Free
Urbanna Oyster Festival– Urbanna, November 2-3
The official Oyster Festival of the Commonwealth offers a wide array of events for travelers to indulge in. Not only is there an opportunity to taste some of Virginia's delicious oysters but entertainment, arts and crafts, a fireman's parade, a beauty pageant, marching bands, antique cars and floats are all a part of this unique event.
Virginia Gourd Festival– Middletown, November 3-4
The 11th Annual Gourd Festival is a marketplace for anyone looking to enjoy folk art and learn how to create gourd art from local artisans. Admission: Free
Virginia Thanksgiving Festival at Berkeley Plantation– Charles City, November 4
Celebrate the 1619 landing of the original colonists at the site of the First Official Thanksgiving in America, with a day dedicated to history, food and fun with tours of the 1726 manor house, walks in the colorful autumn gardens and a formal living history program. There will be period interpreters strolling the grounds, children's games, food and craft vendors.
Cider Assembly Ball - Alexandria, November 17
Enjoy hard cider and easy dancing in a historic setting to kick off Virginia Cider Week. This evening in the 1780s will feature a variety of English country dances in the ballroom, live music, cash bar showcasing Virginia ciders and seasonal dessert collation. Period costume optional, "after-five" attire encouraged.
Love is at the heart of every Virginia vacation. Visit http://www.Virginia.org for more information or call 1-800-VISITVA for a free Virginia is for Lovers travel guide.
# # #