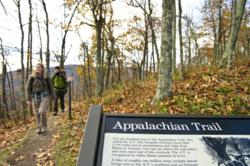 Soar above the foliage on Virginia's Eastern Shore, hike the Appalachian Trail, take a cycling trip on the Blue Ridge Parkway, Virginia awaits.
Richmond, VA (PRWEB) September 12, 2012
From the shores of the Chesapeake Bay to the majestic Blue Ridge Mountains, Mother Nature is a major draw each fall in Virginia as 15 million acres of foliage burst into color and illuminate Virginia's parks, forests and coastlines. Families, friends and couples who love the outdoors can enjoy Virginia's mild fall weather and stunning scenery while spending quality time together in the great outdoors. These Virginia Tourism Corporation trip ideas will get visitors outside and into Virginia's fall splendor, with many more to be found at http://www.Virginia.org/outdoors.
Soar Above the Foliage on Virginia's Eastern Shore- Glide over the Eastern Shore of Virginia like a bird while gazing down at some of the most beautiful scenery on the East Coast on a Discovery Hang Gliding Flight at the Eastern Shore Hang Gliding Center. No experience is necessary and all ages four and older are able to enjoy this pure form of flight from 2500 feet or a mile high.
Take a Cycling Scenic Road Trip- Road cycling enthusiasts looking for an epic fall ride can enjoy a scenic ride on the Blue Ridge Parkway, one of the country's most legendary scenic roads. This 469-mile scenic route winds through 39 counties in Virginia. It is one of the best leaf peeping destinations on the East Coast and is popular among bicyclists and motorists during fall.
Go on a Guided Backpacking Trip in Shenandoah National Park- See places in Shenandoah National Park that few people know about; breathtaking waterfalls, high meadows, rugged mountaintops, even historic structures. This guided backpacking trip includes gear, meals and instruction by an experienced guide. Prices start at $225 per person. Folks who want to plan an independent backpacking trip can certainly do so without a guide in Shenandoah National Park, or in other outdoor wonderlands like Mount Rogers Recreational Area and along the Appalachian Trail in Virginia.
Stay in a Luxury Tree House - Located near the Blue Ridge Parkway, the new Golden Eagle Tree House at Primland Resort in Meadows of Dan is a highly luxurious way to experience fall foliage. Designed by La Cabene Perchee, one of the world's top tree house architectural firms, the tree house sits in one of Primland's oldest and most beautiful trees - without the intrusion of one single nail - and overlooks the Dan River Gorge. The red cedar tree house features a king bed, huge deck and all the luxurious amenities found at Primland's main lodge.
Watch Roaring Falls Framed by Colorful Fall Foliage- Great Falls National Park, just outside of Washington D.C. is a collection of jagged rocks jutting up from the Potomac River in the narrow Mather Gorge creating an amazing series of falls. There are 15 miles of trails - five are multi-use and allow bikes and horses - to see the falls from various angles.
Go Tree Climbing - Adventurers can get an up close and personal leaf peeping experience as they climb among the foliage up to the tree tops. Blue Ridge Tree Climbing in Southwest Virginia and Riverside Outfitters in Richmond offer the chance for folks to climb to sky-high branches using safety techniques borrowed from professional arborists.
Ride Along Virginia's Rail to Trails - Families can enjoy any number of Virginia's rail trails, many of which are multi-use trails that trail runners, hikers and bikers of all skill levels can enjoy as they are well maintained, primarily flat trails converted from old railroad lines.
Visit Virginia's State Parks- Virginia State Parks are consistently rated the best in the nation and have been the backdrop for perfect family vacations for more than 75 years. Families will find that Virginia's 35 state parks are as diverse as the state itself, with parks found along the Atlantic Ocean and Chesapeake Bay, on historic sites, in the Blue Ridge Mountains or just outside of major cities, making fall outdoor fun accessible in every region of the state.
Float through Foliage on Virginia's Scenic Water Trails - Virginia's vast system of scenic rivers, salty tidal bays and quiet inlets and streams provide paddlesport enthusiasts endless opportunities to experience fall from the water.
Look for Wildlife- Virginia is full of places for wildlife viewing, especially along the Virginia Birding and Wildlife Trail, which consists of 65 trail loops throughout Virginia. The first such trail in America, this trail reaches every part of the state and brings visitors up close and personal with Virginia's abundant wildlife treasures. Fall is particularly great for birding as one of the most important migration stop-overs on the East Coast happens. Millions of songbirds and butterflies and thousands of raptors will converge on Virginia's Eastern Shore during their long journey south during the 20th Annual Eastern Shore Birding and Wildlife Festival, October 5 - 7, 2012 in Cape Charles.
Love is at the heart of every Virginia vacation. Visit http://www.Virginia.org for more information. Or call 1-800-VISITVA for a free, Virginia is for Lovers travel guide.
# # #