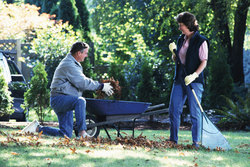 Falmouth, ME (PRWEB) September 23, 2010
When it comes to your yard, don't just rake leaves this fall, says Terry Skillin of Skillins Greenhouses, take these spring-savvy steps to ensure a greener lawn and garden next year.
1.) Prevent future insects and disease. Insects love decaying plant material as "home base" for their pesky operations. Prevent infestation by cutting back perennials and cleaning up fallen leaves and branches.
2.) Tackle remaining weeds now. In fall, weeds send chlorophyll into their root systems to gear up strength for winter. Spray now to help prevent future growth. Skillin recommends Lightning Fast, an organic weed killer with a powerful combination of clove oil and Sodium Lauryl Sulphate. You can also apply corn gluten to your lawn to stop germination of late-flowering weeds.
3.) Apply lime to your lawn and garden now to enhance your turf's ability to absorb necessary nutrients. Keep in mind that your yard may not need lime every year. Not sure? Pick up a simple pH tester. If your soil registers 6.5 to 7.0, you won't need to apply lime this season. Bring the results to your local nursery for help interpreting the information. Look for a calcium-based lime to minimize weeds and aid nutrient flow.
4.) Feed your perennials. Nutrient-rich soil promotes strong, deep roots to help your plants weather summer drought, spring wet, fall winds, and winter cold. Look for natural fertilizers like Plant Tone by Espoma to improve soil conditions.
Skillins is family-owned and operated with retail locations and greenhouse facilities in Falmouth, Brunswick and Cumberland. For five generations, Skillins has provided Maine gardeners with the highest quality plants and products and expert advice and service. For more information call 1-800-244-3860 or visit http://www.skillins.com.
# # #