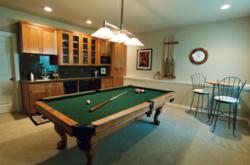 No matter what you build, a great man cave is only a weekend project away
Duluth, MN (PRWEB) September 25, 2012
Fall is the perfect time for home improvement projects; you've spent all summer working outdoors, now reward yourself with a space worthy of a guys' night in.
Gizmoplans, a leader in do-it-yourself construction plans, knows that every man needs a reward for his hard work. The man cave, popularized in recent years by celebrities and professional athletes, isn't reserved for the wealthy anymore. Renowned for their metal fabrication projects, Gizmoplans also has versatile and affordable do-it-yourself project plans that work for indoor spaces. Join the 40% of American homeowners who have added a man cave to their home.
Complete your man cave with these DIY project plans from Gizmoplans:
1. No Fuss Clean Up
Who says men can't clean up after themselves? This automatic money saving, aluminum can crusher is capable of crushing 3,000 cans per hour and can keep your man cave looking its best well through that heartbreaking OT loss in the playoffs—no matter how many cases of Miller Light the guys go through.
2. Show Off a Little
Use this versatile wooden storage unit design as a gun cabinet, as intended, or use the many shelves and hidden drawers to display your bourbon collection, sports memorabilia or photos from that one time you went to Planet Hollywood in the 90s. The knotty pine wood gives this unit a uniquely woodsman feel, perfect for a log cabin or vintage flair to your space.
3. Take it Outside
Claim your domain and take the party outside with this DIY retractable deck awning, perfect for protecting your from the elements while stretching out during those Saturday college football marathons.
4. Get a Little Fancy
Give your man cave a decidedly rugged look, by using 36'' concrete planters as side tables. The textured concrete has a large opening that you can fill with a vast array of décor choices, like fallen tree branches, bottle caps or old footballs. Put three of the 22'' molds together and you've got a coffee table! Cover the top with a glass table top for a one-of-a-kind piece of furniture that was 100% made by you.
"No matter what you build, a great man cave is only a weekend project away," said Brian Luoma, of Gizmoplans. "We are confident our easy to use do-it-yourself plans can help transform any space."
About Gizmoplans
Gizmoplans is an online informational website that provides businesses and individuals with downloadable DIY solutions. These plans can be used to build projects for recreation, hobbies, recycling, industry, woodcrafts, metal fabrication, alternative energy and much more. Gizmoplans is also a hub for businesses and individuals to upload and sell their own plans, patterns, how-to ebooks and more. This online marketplace can benefit both the purchaser and the seller in the DIY community. To get more information on DIY plans and DIY projects, visit Gizmoplan's website at http://gizmoplans.com/.