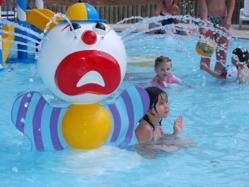 As a family man with two young children, I know from experience what you need to look for...
London, UK (PRWEB UK) 10 May 2012
Will Goodridge, I Spy Camping founder, unveils his top ten camping sites for this summer's family holiday. Taking a camping break has recently come back 'en vogue' and Goodridge's list has highlighted those that are particularly suitable to families with children of all ages.
To have been included in the list, a campsite needs to have ticked a number of boxes, including, close proximity to sandy beaches with gently sloping access to the sea or a lake; on-site facilities for young children; nearby family friendly attractions and the site can be reached easily by plane, ferry or car. The sites also need to offer a range of accommodation options, such as mobile homes, lodges and, for those who like to go camping in france with their own tent, the site must also offer pitches.
Goodridge explained further, 'As a family man with two young children, I know from experience what you need to look for in order to ensure your holiday choice takes care of everyone's needs. The list names 10 campsites that meet my criteria and as a family we have either taken a holiday on the site or it has been recommended by other families.'
Camping has long been regarded as a great way for families with children of all ages to spend time together and enjoy the great outdoors, as well as offering great value for money, which in today's economic climate is very important.
The list includes campsites such as Le Soleil in Argelès-sur-Mer, a 4-star campsite right on the beach so families can walk there without struggling to cross busy roads. The Mediterranean sea around the site is crystal clear and warm for young swimmers in the summer and the views of the Pyrenees are stunning. It also includes La Bien Assise in Nord Pas de Calais, a five star French campsite located in the grounds of a beautiful chateau, it is close to Calais and the Tunnel making it one of the easiest of the campsites to reach.
The full top 10 list of recommended family camping sites can be found on ispycamping.com.
About I Spy Camping -
I Spy Camping is the European family holiday specialist, making it easy to find and compare over 100,000 holidays at more than 650 campsites in France, Spain, Italy, Portugal and Croatia. ISpyCamping.com is the only website to bring together the UK's leading camping operators with French and Dutch companies including Travel Horizon, Vagues Oceanes and Mistercamp who are easily available to UK families for the first time. Well-known brands including Eurocamp, Keycamp and Canvas are also available. The company launched in November 2010 and was shortlisted for a Travolution Travel Pioneer award in its first year.