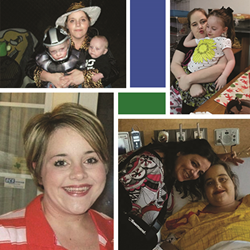 Jessica was a dedicated mother to her four children, and our goal during this charity event will be to make sure they have everything they need during this extremely difficult time
Grand Prairie, TX (PRWEB) December 21, 2016
The Tyler Hitchcock Agency, a Texas-based firm that offering asset protection services and financial planning assistance to commercial and residential clients throughout the Dallas/Fort Worth region, is launching a charity event to support the family of Jessica Cheatum-Ogler, a local mother who recently passed away from liver disease.
Jessica was a local mother of four who fought for 11 months against liver disease. During that time, Jessica was in the hospital multiple times to receive treatment and undergo extensive therapy in an effort to combat the disease and restore her health. Ultimately, Jessica lost the ability to walk on her own, was placed in hospice care, and recently passed away.
"Jessica was a dedicated mother to her four children, and our goal during this charity event will be to make sure they have everything they need during this extremely difficult time," says Tyler Hitchcock, president and owner of the Tyler Hitchcock Agency.
Hitchcock and his team are spearheading an extensive publicity effort utilizing social media and email bulletin systems to share information with supporters of the charity event throughout the region. Additionally, the Tyler Hitchcock Agency will be producing a title article memorializing Jessica in the next issue of "Our Hometown," a monthly online community interest magazine hosted by the firm: http://www.tylerhitchcockagency.com/Our-Hometown-Magazine_46.
Over the last year, half a dozen charitable organizations operating in and around the Dallas/Fort Worth area have been directly assisted by the Tyler Hitchcock Agency. Hitchcock and his professional team are proud affiliates of the "Agents of Change" charity support network and plan to continue working with regional nonprofits regularly.
Everyone that wishes to help Jessica's family during this charity event is invited by the Tyler Hitchcock Agency team to follow this link and make an effort to provide support to the cause: http://www.tylerhitchcockagency.com/In-Memory-of-a-Courageous-Mother-of-4-_15_community_cause. Additional information on charitable organizations supported by the Tyler Hitchcock Agency in the past can be found here: http://www.tylerhitchcockagency.com/community-cause.
About The Tyler Hitchcock Agency
A full service insurance provider serving families and businesses in Grand Prairie, TX, The Tyler Hitchcock Agency is committed to bringing local people an agency which understands their needs. Tyler and his team of dedicated professionals work with carriers to assemble a variety of products and services which will ensure their clients' peace of mind. From all of the products a typical consumer needs (home, auto, boat, ATV, and more), to financial planning consultation, The Tyler Hitchcock Agency delivers consistently superior service. To contact an expert at the Tyler Hitchcock Agency, visit http://www.tylerhitchcockagency.com/ or call (972) 642-0798.