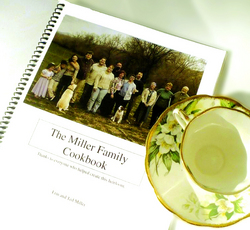 Creating a family recipe cookbook full of love and memories is a wonderful way to personalize Christmas gifts for all family members without driving all over town or stressing about what to give
Boise ID (PRWEB) August 6, 2008
Family cooks who want to make a cookbook with all their favorite family recipes in time for Christmas now have a simple and inexpensive shortcut. According to family cookbook guru Erin Miller, a unique Christmas gift using a home computer and printer can be easily made with Matilda's Fantastic Cookbook Software® 4.0. The software, released this week, is the product of Miller's Idaho-based company, The Cookbook People.
With only months to go before the big Christmas rush, Miller recommends starting now to avoid the pressures of the holidays. "Our software provides a no-fuss and low-cost way to preserve cherished family recipes and traditions that might otherwise be lost to new generations," Miller says. "Making a personalized family cookbook can be an inexpensive way to please all the people on the gift-giving list. Using Matilda's Fantastic Cookbook Software® 4.0, family cooks can make a dozen cookbooks for friends and family for only a few dollars each. In a tight economy, it's a great way to give a valuable gift for very little money."
Miller suggests a basic timeline to help do-it-yourself cookbook enthusiasts organize their thoughts and activities in time to make family recipe cookbooks for Christmas:
AUGUST
Select family recipes and type them into the software's "Recipe" section (one of only three tabs in the software needed to create a cookbook). Recipes may also be cut and pasted from other documents or websites. The software automatically formats the recipes on the page, and there are 27 design options to choose, or cookbook crafters can easily create their own template. Hint: If family members are working together to create the cookbook, Miller recommends giving them a short deadline to gather and submit their recipes so they will respond while their excitement and interest in the project is high.
SEPTEMBER
Write any stories about the family recipes that are being included. Funny stories about the dishes, such as burned attempts, or missing ingredients, can be great fun and provide insight into why the recipe endures. Also, include brief stories about the people who made (or still make) the signature recipes you have selected. These bio sketches will be fondly appreciated in future years.
OCTOBER
Collect photographs of family members and add to them to the forthcoming family recipe cookbook in the "People" tab. The software also allows adding photos to every recipe. Photographs of both family and food add personality to the cookbook, and make it more interesting to even the non-cooks in the family, Miller adds.
NOVEMBER
Use family gatherings to take any missing photos to be included, or to request additional recipes. Hint: If the cookbook is to be a surprise gift, encourage family members to talk about the family's history at these gatherings to gain more material for the "People" section. In addition, the software has both "Birthdays" and "Address Book" features to easily include a very useful family phone book and birthday calendar in the cookbook.
DECEMBER
Print copies of the family recipe cookbook using a home computer printer (be sure to have a supply of ink cartridges or toner and paper). Or, arrange to have it printed at the neighborhood fast printer early in the month. Hint: This is a very busy season for printers, so use the software's "Printing" tab to make the job quicker, especially if the gift must be shipped in time to be placed under the Christmas tree.
"Creating a family recipe cookbook full of love and memories is a wonderful way to personalize Christmas gifts for all family members without driving all over town or stressing about what to give," Miller affirms. "Whether including family recipes or personal favorites, a little planning coupled with our software can make it much easier this Christmas or any time you want an easy, low-cost family cookbook."
Matilda's Fantastic Cookbook Software 4.0 CD is available through Amazon.com or at the family cookbook site CookbookPeople.com. The software is available at both websites for $34.95. A software CD plus cookbook easy binding kit is also available for $39.90 through CookbookPeople.com, as well as a free video demonstration of the software's features.
###