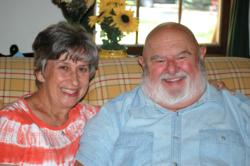 It is our desire to help those who are hurting to explore the wisdom and depth of the Bible
Elverson, PA (PRWEB) July 12, 2012
Tri County Compass Ministries was founded by Pastor Arleigh Hegarty in Elverson, Pennsylvania. Arleigh is a seasoned pro at counseling and guest speaking, having been a Pastor for 45 years and the Pastor of Counseling and Pastoral Ministries at Community Evangelical Free Church in Elverson for 20 years, just recently retiring. He explains the mission of his organization like this. "It is our desire to help those who are hurting to explore the wisdom and depth of the Bible and apply its grace-centered guidance to the problems of daily living."
We understand that many churches have pastors who are stretched to the limit with pastoral responsibilities and may not be able to take on counseling of congregants on a personal basis. At Tri County Compass Ministries we seek to hold on to the weak who feel anxious, discouraged and overwhelmed by pointing them to the hope and comfort found in Jesus Christ. We encourage the faint-hearted, challenge and point out the consequences to those who are headstrong, opinionated, and self-centered and admonish the unruly that use, abuse and misuse others. The first challenge is to realize there is a problem, and then we can unpack it and deal with it.
Bible-based counseling can be a ministry to all who have need. The range of counseling offered by a biblical counselor can deal with family counseling, premarital counseling, broken marriages, parent-child relationships, depression, alcohol and drug abuse, tension, turmoil, anxiety, fear, worry and any number of other problems resulting in mental and physical distress. The focus is that the Scriptures provide the only authoritative rule of faith and standards of conduct, not on the counselor's or someone else's knowledge or opinion. Biblical truth is brought to bear on the counselee's needs.
Tri County Compass Ministries is by appointment and services Reading, West Chester, Pottstown and Paoli-Malvern Pennsylvania. There is no charge for a one-hour initial session in which both the counselor and client will evaluate whether counseling is the best for all involved.
The office is located on the second floor of the Stoltzfus Enterprises building at 162 East Main Street, Elverson, PA 19520. The Office phone number is 610-823-6790.
You can read more about the organization by going to http://www.tricountycompassministries.com.