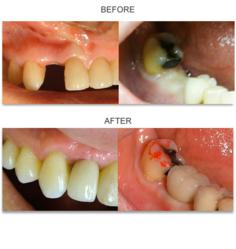 When implant knowledge and experiences are shared, all of our practices and patients benefit tremendously.
Redwood City, CA (Vocus/PRWEB) July 15, 2011
The Redwood City Implant Study Club, which brings local dentists together to learn about dental implants while making them available to patients at a reduced price, will hold its fourth meeting of 2011 on July 29th. The club was created by Dr. Ihab Hanna, D.D.S., owner of Redwood City Dental Care, a Peninsula dental office. Participants receive continuing education through the Dental Board of California, and have the opportunity to learn from each other while perfecting the dental implant procedure.
"When implant knowledge and experiences are shared, all of our practices and patients benefit tremendously," states Carl Misch, founder of the Misch International Implant Foundation.
The subject of the July meeting will be "Pre-Implant Grafting." Participants will learn about the process of bone grafting in the socket of an extracted tooth prior to installing dental implants.
The Implant Study Club has many benefits for participating dentists, but it is also a winning solution for patients. Because dental implant procedures are performed at a reduced price, lower income candidates for the procedure have the opportunity to receive treatment that might normally be beyond their income level.
Mrs. A.F. said of the procedure, "[It] improves my overall health and gives me a great smile."
"In our office we want to help as many people as possible," said Dr. Hanna, D.D.S., the Peninsula dental care specialist. "Smile make-over candidates' and doctors' participation are essential for the success of the Study Club. It is a win-win for all involved."
Dr. Hanna will continue hosting Redwood City Implant Study Club activities every other month. Upcoming topics include "Crowns and Dentures over Implants" and "Complications and How to Avoid Them."
The Redwood City Dental Implant Study Club is open to all Redwood City dentists. For more information on becoming a smile makeover candidate, or joining the Redwood City Implant Study Club, please contact Dr. Hanna's office at (650) 241-4269 or visit their website: http://www.redwoodcitydental.com.
About Redwood City Dental Care
Redwood City Dental Care is a Peninsula family dentistry office that specializes in total dental health care including implants, oral sedation, and comprehensive general dentistry for the entire family. They serve the San Francisco Bay Area Peninsula communities of Atherton, Burlingame, Cupertino, Hillsborough, Los Altos, Los Altos Hills, Los Gatos, Menlo Park, Mountain View, Palo Alto, Portola Valley, Redwood City, San Carlos, San Jose, San Mateo, Santa Clara, and Woodside.
###