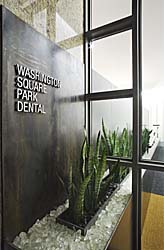 We are a group of passionate dental professionals excited to care for your dental needs
San Francisco, CA (PRWEB) February 04, 2012
With the success of its expanded office hours, San Francisco family dentistry, Washington Square Park Dental has expanded its office to include five operatories, ensuring more availability to its patients throughout the day. As its fifth operatory will solely be dedicated to implant placement and restoration, Washington Square Park Dental is excited that the expansion will provide more opportunities to focus on dental implants.
"We are a group of passionate dental professionals excited to care for your dental needs. At Washington Square Park Dental, we are committed to providing our patients with exceptional dental care in a modern and relaxing environment," Dr. Jared Pool said. "Our goal is to partner with our patients to help them achieve and maintain a lifetime of excellent oral health."
Founded by Dr. Sara Creighton and Dr. Pool, Washington Square Park Dental is built on a foundation of expert dental care and quality customer service. The facility consists of cutting-edge technology, including handheld digital x-rays and ceiling-mounted TVs.
"I had my upper wisdom teeth extracted and a filling done at WSPD. It was literally a walk in the park ... I felt totally comfortable throughout the procedure and both Dr. Creighton and Chris made sure I felt no pain. After a couple of days, Dr. Creighton called to make sure I was feeling fine, which was very sweet and thoughtful," Juliana S. of San Francisco said on Yelp.com
For more information about any of Washington Square Park Dental's services, call 415-329-5776, schedule an appointment online at http://www.wsparkdental.com or visit 1719 Powell St. in San Francisco.
About Washington Square Park Dental
Washington Square Park Dental is a family dentistry practice comprised of some of the best dentist in San Francisco. Conveniently located in a LEED-certified space in North Beach, it hosts a modern, relaxing environment to ensure clients are at ease and well cared for at all times. Washington Square Park Dental emphasizes patient education and preventative care, helping clients maintain a lifetime of excellent oral health. It specializes in all general dentistry services, including dental implants, cleanings, fillings, teeth whitening, Invisalign diagnostics, treatment plans and more.
###