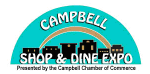 We met many great people and contacts. The event spread the word about our business and helped us to put some great packages together for people
Campbell, CA (PRWEB) January 11, 2012
Campbell family event organization, The Campbell Chamber of Commerce is hosting its Seventh Annual Campbell Shop & Dine Business Expo on Wednesday, February 29 at the Villa Ragusa. The event will kick-off with an invitation-only networking group from 4 to 6 p.m. and will open to the public from 6:00 to 7:30 p.m.
More than forty local businesses and non-profit groups were in attendance at the 2011 event. Vendors reported that last year's event provided an effective and intimate setting to extol their products and services while also reaching potential customers and reconnecting with existing ones. One vendor reported as many as 150 people stopping by their booth to inquire about their business.
At the 2012 Expo, vendors will once again be providing special pricing, product samples and raffle prizes throughout the event. The "dine" portion of the event includes a free sampling of savory and sweet fare from a variety of local eateries. Local city dignitaries will all be in attendance.
"We met many great people and contacts. The event spread the word about our business and helped us to put some great packages together for people," stated a representative from the Courtyard by Marriott.
The Campbell Shop & Dine Expo is free to attend! For more information on purchasing booth space, and Campbell's networking events, please call the Chamber office at 408-426-8720 or go to http://www.campbellchamber.net and click on "special events."
About the Campbell Chamber of Commerce
For more than 100 years, the Campbell California Chamber of Commerce has provided Campbell business networking with an added measure of security by hosting business-to-business opportunities for sharing advice, political representation and customer introductions. The Chamber's mission is to be the preeminent voice promoting the community of Campbell in all its aspects. The Chamber brings business together with government and community leaders to work together in a coalition to help the community thrive.
###