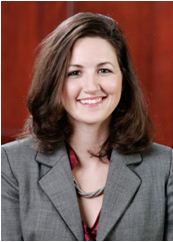 Raleigh, NC (PRWEB) August 24, 2011
Alicia Jurney Whitlock, Attorney at Smith Debnam Narron Drake Saintsing & Myers, LLP, has been elected Vice-chair of the Board of Directors for Haven House Services in Raleigh. Haven House Services was established in 1973 as a nonprofit organization dedicated to improving the quality of life for at-risk youth and their families. The organization helps struggling young people and their families develop positive and successful relationships at home, at school, and in the community. Alicia has been an active volunteer with this organization, and she is passionate about the individuals who benefit from the services Haven House provides.
On behalf of Smith Debnam, Alicia donated boxing equipment to Demetrious Jones, a 19-year old competing for a position on the US Olympic Boxing Team. Demetrious trains in Raleigh with Haven House's Second Round Boxing program, which serves youthful offenders and gang-involved youth between 11-18 years old. The program uses boxing, weight training, and other forms of exercise to teach youth teamwork, self-discipline, time management, leadership, healthy living, and other pro-socialization elements. Demetrious went on to make the USA Boxing team and will be competing through the summer for a position on the Olympic team.
Alicia and Smith Debnam want to congratulate Demetrious on his accomplishments, and we are thrilled to see such a positive role model come through this program.
Alicia Jurney Whitlock is an associate with Smith Debnam's family law practice group. She is experienced in representing clients in child custody, child support, divorce, domestic violence, equitable distribution, and alimony matters. She earned her JD from Campbell University and her BA in Political Science from Wake Forest University.
Smith Debnam is a midsize North and South Carolina law firm with its main office in Raleigh, NC. The firm's practice includes Corporate and Business Law, Business Litigation, Commercial Bankruptcy and Reorganization, Foreclosures, Creditor Representation, Collections, Commercial & Residential Real Estate, Construction Law, Employment Law, Equipment Leasing & Finance, Family Law, Estate Planning & Administration, Immigration Law, and Professional Negligence. To learn more about Smith Debnam visit smithdebnamlaw.com.
###