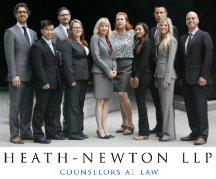 San Francisco, CA (PRWEB) November 15, 2012
Although the term is commonly used, from a legal standpoint, there is no such thing as absolute "grandparents' rights" in California. In fact, if the parents refuse to allow the child to spend time with the grandparent, the law provides a rebuttable presumption that it may not be in the grandchild's best interest to interact with the grandparents.
However, there are steps that grandparents can take in California to overcome this presumption under certain circumstances. The experts in family law at Heath-Newton provide the following recommendations in such cases:
1. Keep the Focus on the Best Interests of the Child
To be awarded time with grandchildren, grandparents must convey to the court that their presence is in the best interest of the child.
2. Review California Family Law
Heath-Newton advises grandparents to review the law to show the court how it applies to their situation. The California Grandparent Visitation Law outlines how it may be applied in a particular case.
3. File a Petition with the Superior Court
After completing the above steps, grandparents must file legal papers—a petition--that outline exactly why they should be granted visitation with the grandchild. The Superior Court in the county where the grandchild resides will have jurisdiction over visitation matters. Accordingly, the petition must be filed with that particular court.

Each county in the State of California has a Superior Court.
In San Francisco County, petitions must be filed at the Unified Family Court.
For courts outside of the San Francisco County, enter "family court" and "Superior Court" with the grandchild's county name into a search engine to get the contact and filing information needed.
To learn how California family law applies to your individual case or if you need help obtaining visitation with your grandchildren, Heath-Newton welcomes you to consult with one of their grandparents' rights attorneys. In addition, Heath-Newton is staffed by lawyers who are experts in all facets of family law if you are looking for the following: child custody attorney, divorce attorney, estate planning attorney, probate attorney, trust attorney, and others. Email info@heathnewton.com or call 415.398.1290 for more information.
About Heath-Newton LLP
Heath-Newton LLP specializes in family law, asset protection and estate planning services. Based in San Francisco, their boutique firm has earned a reputation for managing their clients' cases well, reaching successful resolutions — and minimizing costs and disruption to their clients' lives.
They have handled a long list of family law cases, including a broad range of issues facing new families (such as domestic partnerships, premarital agreements, adoption and more), as well as divorce, asset division, child custody and child and spouse support. They also have extensive experience in San Francisco estate planning, wills, probate, mediation, living wills and trusts.
Collectively, their attorneys have thousands of hours of experience, allowing them to be both efficient and effective. They are guided by a practical approach that emphasizes avoiding litigation to minimize costs and disruption; however, they can and will be fierce litigators when all other strategies have proven ineffective. For more information visit their website at http://www.heathnewton.com. To discuss a situation with one of their attorneys, please call them at (415) 398-1290.