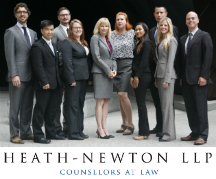 San Francisco, CA (PRWEB) November 16, 2012
The family law attorneys at Heath-Newton understand that grandchildren bring great joy to their grandparents. They also understand the great pain that can result when grandparents are unable to visit with their grandchildren as they would like.
To help grandparents steer through the process of petitioning the Superior Court for grandparent visitation, Heath-Newton shares the following advice.
The first step is to show the Court that grandparent visitation is in the best interest of the child(ren). In fact, the California Family Code provides that "notwithstanding any other provision of law, in a proceeding described in Section 3021, the court may grant reasonable visitation to a grandparent of a minor child of a party to the proceeding if the court determines that visitation by the grandparent is in the best interest of the child" [Family Code Section § 3103 (a)].
The next step is to review the California Grandparent Visitation Law and determine if you have a likely case.

Grandparents need to show that they qualify to file a petition. Qualifications include circumstances in which your grandchild's parents are not married, are not living together, or the child does not live with either parent.
The petition must demonstrate that it is in the grandchild(ren)'s best interest to have visitation with the grandparent.
The case can be strengthened if the grandparent and the grandchild(ren) already have a pre-existing relationship.
The petition should be filed in the family court of the proper county in which the child resides. Each county has a different Superior Court. In San Francisco County, petitions must be made at the Unified Family Court for the Superior Court of San Francisco County. For courts outside of San Francisco County, go to Google and enter "family court" and the county name to get the information needed.
Grandparents must also provide proper notice that they are petitioning for visitation rights. California law states: "The petitioner shall give notice of the petition to each of the parents of the child, any stepparent, and any person who has physical custody of the child, by certified mail, return receipt requested, postage prepaid, to the person's last known address, or to the attorneys of record of the parties to the proceeding" [Family Code Section § 3103 (c)].
These are steps that grandparents can undertake themselves when they petition for their visitation rights in the Superior Court. However, the child custody attorneys at Heath-Newton can also provide legal guidance in these procedures.
To learn how the law applies to your individual case or if you need help obtaining visitation with your grandchildren, Heath-Newton invites you to consult with one of their grandparents' rights attorneys. In addition, Heath-Newton is staffed by lawyers who are experts in all facets of family law if you are looking for the following: divorce attorney, estate planning attorney, probate attorney, trust attorney, and others. Email info(at)heathnewton.com or call 415.398.1290 for more information.
About Heath-Newton LLP
Heath-Newton LLP specializes in family law, asset protection and estate planning services. Based in San Francisco, their boutique firm has earned a reputation for managing their clients' cases well, reaching successful resolutions — and minimizing costs and disruption to their clients' lives.
They have handled a long list of family law cases, including a broad range of issues facing new families (such as domestic partnerships, premarital agreements, adoption and more), as well as divorce, asset division, child custody and child and spouse support. They also have extensive experience in San Francisco estate planning, wills, probate, mediation, living wills and trusts.
Collectively, their attorneys have thousands of hours of experience, allowing them to be both efficient and effective. They are guided by a practical approach that emphasizes avoiding litigation to minimize costs and disruption; however, they can and will be fierce litigators when all other strategies have proven ineffective. For more information visit their website at http://www.heathnewton.com. To discuss a situation with one of their attorneys, please call them at (415) 398-1290.