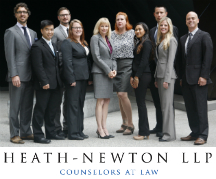 San Francisco, CA (PRWEB) December 02, 2012
The family law counselors at Heath-Newton share important factors to keep in mind when creating a postnuptial agreement. Potential legal issues can arise after a marriage and become a cause for concern. These may include questions about community property, spousal support or property division. Though postnuptial agreements are valid in California, the following checklist can help ensure that these agreements are effective before the law.
1. Understand that Spouses Have a Fiduciary Duty
Once a couple is married, there is a fiduciary duty between them. This duty means that both partners in the married couple must act in the highest and best interests of the other. As such, the postnup must reflect this, or may be overturned at a later date.
2. Put the Postnup in Writing
A postnup, like any legal agreement, must be properly written and executed to be enforceable. Putting verbal promises on paper can help to ensure that what was agreed upon between spouses is later honored if the marriage is dissolved.
3. Get Separate Lawyers
Though not a legal requirement for postnuptial agreements, separate lawyers are required for premarital agreements in California. Postnups can be difficult to enforce, so many family lawyers in California apply the most stringent standards of prenup drafting when they create a postnuptial agreement. Having separate lawyers also ensures that both sides of the couple are represented, receive sound legal advice, and understand what the postnuptial agreement stipulates.
4. Don't Rush the Postnuptial Agreement Process
Though it need not take months to consider, negotiate and execute a postnuptial agreement, the process should not be rushed. In California, the law requires a 7-day waiting period for prenuptial agreements. Though there is no such waiting period for postnuptial agreements, the family law experts at Heath-Newton recommend a waiting period to allow both spouses sufficient time to process what they will be signing.
5. Understand the Agreement Before Signing
Both spouses must enter into the postnuptial agreement with a full understanding. Among others, a postnuptial agreement can null any community property rights acquired during the marriage. Before signing, both spouses in the marriage should have a clear understanding of the following: California community property law, California alimony law, the spouse's assets and debts, and what the postnuptial agreement stipulates.
When in doubt, contact a lawyer to better understand the legal impact of the agreement. To learn if a postnuptial agreement is needed or to ensure that such an agreement will be effective, consult with the San Francisco divorce attorneys at Heath-Newton. In addition, Heath-Newton is staffed by lawyers who are experts in all facets of family law if you are looking for the following: child custody attorney, estate planning attorney, probate attorney, trust attorney, and others. Email info(at)heathnewton(dot)com or call 415.398.1290 for more information.
About Heath-Newton LLP
Heath-Newton LLP specializes in family law, asset protection and estate planning services. Based in San Francisco, their boutique firm has earned a reputation for managing their clients' cases well, reaching successful resolutions—and minimizing costs and disruption to their clients' lives.
They have handled a long list of family law cases, including a broad range of issues facing new families (such as domestic partnerships, premarital agreements, adoption and more), as well as divorce, asset division, child custody and child and spouse support. They also have extensive experience in San Francisco estate planning, wills, probate, mediation, living wills and trusts.
Collectively, their attorneys have thousands of hours of experience, allowing them to be both efficient and effective. They are guided by a practical approach that emphasizes avoiding litigation to minimize costs and disruption; however, they can and will be fierce litigators when all other strategies have proven ineffective. For more information visit their website at http://www.heathnewton.com. To discuss a situation with one of their attorneys, please call them at (415) 398-1290.