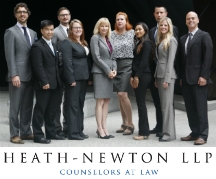 San Francisco, CA (PRWEB) December 11, 2012
Sometimes, a spouse will move out, ask for a divorce, but then decide to give the marriage another try. In such a case, there may be legal implications that impact issues such as community property. The divorce attorneys at Heath-Newton LLP explain the role of conditional marriage reconciliation in such cases with the following tips.
1. Usually a "date of separation" is created when one of the spouses moves out of the family residence and expresses his or her intention to divorce. A date of separation is defined as a "parting of the ways with no present intention of resuming marital relations" with evidence of a "complete and final breakdown in the marital relationship" as the reason behind the separation.
2. This date is pivotal in California divorce law. Prior to that date, all earnings between spouses are considered community property and split evenly between the two parties. However, once a date of separation is established, any earnings that are gained belong to the individual earner from that date onwards.
3. Reconciliation reverses the separated status of a couple, and the earnings of both parties become community property once again. To protect assets in the case of an unsuccessful reconciliation, the legal counselors at Heath-Newton recommend that a Conditional Reconciliation Agreement be drafted. This agreement allows both parties to attempt reconciliation without voiding the date of separation and its legal significance.
Marriage reconciliation carries significant legal consequences, but there are several options available to protect the financial interests of both spouses while allowing for reconciliation attempts in good faith. To learn more about these options, consult with one of the qualified family law attorneys at Heath-Newton.
In addition, Heath-Newton is staffed by lawyers who are experts in all facets of family law if you are looking for the following: child custody attorney, estate planning attorney, probate attorney, trust attorney, and others. Email info(at)heathnewton(dot)com or call 415.398.1290 for more information.
About Heath-Newton LLP
Heath-Newton LLP specializes in family law, asset protection and estate planning services. Based in San Francisco, their boutique firm has earned a reputation for managing their clients' cases well, reaching successful resolutions — and minimizing costs and disruption to their clients' lives.
They have handled a long list of family law cases, including a broad range of issues facing new families (such as domestic partnerships, premarital agreements, adoption and more), as well as divorce, asset division, child custody and child and spouse support. They also have extensive experience in San Francisco estate planning, wills, probate, mediation, living wills and trusts.
Collectively, their attorneys have thousands of hours of experience, allowing them to be both efficient and effective. They are guided by a practical approach that emphasizes avoiding litigation to minimize costs and disruption; however, they can and will be fierce litigators when all other strategies have proven ineffective. For more information visit their website at http://www.heathnewton.com. To discuss a situation with one of their attorneys, please call them at (415) 398-1290.