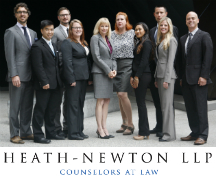 San Francisco, CA (PRWEB) December 21, 2012
The San Francisco family law counselors at Heath-Newton share a checklist of the top ten questions to ask when drafting a prenuptial agreement in California. In their experience, the attorneys at Heath-Newton have seen that many couples enter into a marriage without an understanding of the resulting legal and financial obligations.
Though planning a wedding and entering into marriage is an exciting time for couples, there are also legal implications and consequences to consider. The experts at Heath-Newton recommend taking a proactive and positive start to the legal aspects of marriage by researching prenuptial agreements and California's default family law.
The following checklist of questions provides a starting point for couples as they consider a California prenuptial agreement.
1. Under California law, what are the marital rights and responsibilities if there is no prenuptial agreement in place?
2. In the event of a divorce, how will community property be dealt with?
3. In California, how does a prenuptial agreement work?
4. What are the different options for prenuptial agreements? How much flexibility is there?
5. Will a simple agreement be sufficient?
6. What will happen when spouses separate or divorce?
7. How will community property be handled if a lawsuit is filed by an outside creditor? What happens in the event that the prenuptial agreement states that a spouse's property is separate?
8. Is a prenuptial agreement binding if it is needed in the future?
9. How are sentimental assets, inheritances, or a family home protected?
10. Is a California divorce attorney needed to design and draft a prenuptial agreement?
California family lawyers can answer these questions and more. The law counselors at Heath-Newton advise that it may be worthwhile to speak with an attorney and understand prenuptial matters and others before getting married.
To learn how California community property and marital law may apply to your situation or to learn more about prenuptial agreements, Heath-Newton invites you to consult with one of their qualified family law attorneys. In addition, Heath-Newton is staffed by lawyers who are experts in all facets of family law if you are looking for the following: child custody attorney, estate planning attorney, probate attorney, trust attorney, and others. Email info(at)heathnewton(dot)com or call 415.398.1290 for more information.
About Heath-Newton LLP
Heath-Newton LLP specializes in family law, asset protection and estate planning services. Based in San Francisco, their boutique firm has earned a reputation for managing their clients' cases well, reaching successful resolutions—and minimizing costs and disruption to their clients' lives.
They have handled a long list of family law cases, including a broad range of issues facing new families (such as domestic partnerships, premarital agreements, adoption and more), as well as divorce, asset division, child custody and child and spouse support. They also have extensive experience in San Francisco estate planning, wills, probate, mediation, living wills and trusts.
Collectively, their attorneys have thousands of hours of experience, allowing them to be both efficient and effective. They are guided by a practical approach that emphasizes avoiding litigation to minimize costs and disruption; however, they can and will be fierce litigators when all other strategies have proven ineffective. For more information visit their website at http://www.heathnewton.com. To discuss a situation with one of their attorneys, please call them at (415) 398-1290.