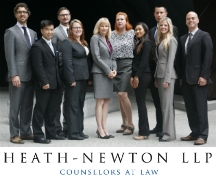 San Francisco, CA (PRWEB) January 17, 2013
Going through the divorce process can be a confusing and stressful time. Questions regarding alimony can further complicate issues and increase confusion. The divorce attorneys at Heath-Newton share their answers to commonly asked alimony questions in California.
1. How is the Amount of Alimony Calculated?
In the early stages of divorce, a formula is usually used to calculate alimony. The most common formula takes 40% of the higher earner's income and subtracts that by 50% of the lower earner's income. Issues such as mortgage interest payments, health insurance costs, and property taxes may increase or decrease the amount of alimony.
Once the initial stages of divorce have been completed, courts typically do not use that formula but instead use their discretion to apply the law under California Family Code Section 4320. Under this code, courts will examine factors such as the marital standard of living,; earning capacity of both spouses; marriage duration; age, education, and health of the spouses; periods of unemployment; and so forth. In the case of long-term spousal support, courts can exercise greater discretion in the amount of alimony that will be awarded based on the circumstances of both parties.
2. How Long Must Alimony Be Paid?
Under California law, the duration of a marriage is a determining factor in awarding spousal support. A marriage of 10 or more years is considered a "long-term marriage" and in such cases, courts have the discretion to award spousal support for a fixed period, either for an indefinite amount of time or with a conditional termination date. Either may be subject to modification depending on the circumstances.
On the other hand, a marriage of less than 10 years is considered of "short duration." When such marriages are dissolved, the standard period of spousal support is half the length of marriage. In other words, if a couple is married for six years, alimony would be paid for three years.
However, the duration of an alimony award is also subject to the judgment of the courts and may be modified under circumstances such as unemployment, remarriage, salary increases and so forth.
3. Can the Amount of Alimony Be Modified?
Unless there is a non-modifiable support clause in the marital settlement agreement, the amount of alimony paid can be adjusted if circumstances change.
An example of a changed circumstance would be if the party paying alimony loses his or her job. In such a case, that party may ask to have the amount of spousal support adjusted to reflect the current situation.
At the same time, if the party paying the spousal support has a significant increase in income, the other party receiving alimony may be entitled to higher payments.
4. Do Alimony Payments End with Remarriage or Cohabitation?
Most marital settlement agreements or court orders stipulate that alimony payments end upon remarriage of the receiving party or the death of either one.
The negotiated agreement between the two parties will determine if alimony payments end in the event of cohabitation. That said, cohabitation can serve as the basis to argue for reduced alimony if the receiving party is being supported by the current partner. However, the legal experts at Heath-Newton caution that this argument should not be relied upon as it is rarely effective.
5. Can Alimony be Paid as a Lump Sum Versus a Monthly Payment?
Alimony can be paid in a lump sum, an attractive offer for people who want to make a clean break or who anticipate higher earnings in the future. If alimony is paid as a lump sum, the amount may be discounted on a reasonable interest rate that is agreed upon by both parties or ordered by the courts.
For more information about California alimony matters and similar issues, consult with one of the qualified family law attorneys at Heath-Newton. In addition, Heath-Newton is staffed by lawyers who are experts in all facets of family law if you are looking for the following: child custody attorneys, estate planning attorneys, probate attorneys, trust attorneys, and others. Email info(at)heathnewton(dot)com or call 415.398.1290 for more information.
About Heath-Newton LLP
Heath-Newton LLP specializes in family law, asset protection and estate planning services. Based in San Francisco, their boutique firm has earned a reputation for managing their clients' cases well, reaching successful resolutions—and minimizing costs and disruption to their clients' lives.
They have handled a long list of family law cases, including a broad range of issues facing new families (such as domestic partnerships, premarital agreements, adoption and more), as well as divorce, asset division, child custody and child and spouse support. They also have extensive experience in San Francisco estate planning, wills, probate, mediation, living wills and trusts.
Collectively, their attorneys have thousands of hours of experience, allowing them to be both efficient and effective. They are guided by a practical approach that emphasizes avoiding litigation to minimize costs and disruption; however, they can and will be fierce litigators when all other strategies have proven ineffective. For more information visit their website at http://www.heathnewton.com. To discuss a situation with one of their attorneys, please call them at (415) 398-1290.