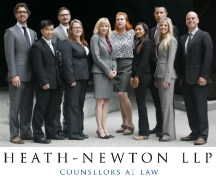 San Francisco, CA (PRWEB) February 01, 2013
The San Francisco family law experts at Heath-Newton share their advice about the four essential steps to ensure a legally executable prenuptial agreement. The divorce attorneys at Heath-Newton explain that following these steps can help to set the right expectations and answer questions regarding the legal aspects of money and marriage.
1. Fully Disclose All Assets and Debts
Before drafting a prenuptial agreement, all debts and assets must be disclosed to the other party. This disclosure usually takes the form of an addendum to the premarital agreement, with all supporting documentation given to the attorneys.
Failure to disclose all assets and debts at this stage could lead to overturning the prenuptial agreement in the future. This is based on the argument that the parties involved cannot make a rational agreement if they do not fully understand what they are agreeing to.
When in doubt, the San Francisco family law experts at Heath-Newton advise to err on the side of caution and disclose everything. Full disclosure is of the utmost importance when drafting a prenuptial agreement.
2. Understand Legal Rights and the Consequences of Waiving Them
A divorce attorney should explain California community property law to ensure that the client has a basic understanding of the default family laws enforced in California.
Both parties should bear in mind that a California prenuptial agreement may have the following effects:

Eliminate the right to 50% of assets acquired during the marriage
Terminate spousal support rights
Treat community property as separate property
Terminate the right to inherit spousal property
An experienced family law attorney can help sort and prioritize these issues to ensure a satisfactory outcome for both parties involved.
3. Hire Separate Family Law Attorneys
In California, the law requires separate legal counsel for both spouses. Each spouse must also understand the agreement before signing. This is especially important should a dispute arise. Having separate attorneys will make it easier to prove that legal standards have been met. In order to ensure that an enforceable agreement is drafted, separate counsel is the recommended route.
4. Follow the Seven-Day Rule
In California, the state mandates that a seven day waiting period is observed between the time the premarital agreement is presented and when it is signed. However, the start of this period can be a debatable point. For example, some lawyers interpret this seven-day provision to mean from the time the final agreement is delivered to when it is signed. Other lawyers consider the seven day wait to start from the time the prenuptial agreement is first discussed to when the final draft is signed.
Because of the ambiguous nature of this requirement, the experts at Heath-Newton recommend a conservative approach. They advise waiting seven days between the delivery of the final agreement to when it is signed.
For more information about California prenuptial agreements, Heath-Newton invites you to consult with one of their qualified family law attorneys. In addition, Heath-Newton is staffed by lawyers who are experts in all facets of family law if you are looking for the following: child custody attorney, estate planning attorney, probate attorney, trust attorney, and others. Email info(at)heathnewton(dot)com or call 415.398.1290 for more information.
About Heath-Newton LLP
Heath-Newton LLP specializes in family law, asset protection and estate planning services. Based in San Francisco, their boutique firm has earned a reputation for managing their clients' cases well, reaching successful resolutions—and minimizing costs and disruption to their clients' lives.
They have handled a long list of family law cases, including a broad range of issues facing new families (such as domestic partnerships, premarital agreements, adoption and more), as well as divorce, asset division, child custody and child and spouse support. They also have extensive experience in San Francisco estate planning, wills, probate, mediation, living wills and trusts.
Collectively, their attorneys have thousands of hours of experience, allowing them to be both efficient and effective. They are guided by a practical approach that emphasizes avoiding litigation to minimize costs and disruption; however, they can and will be fierce litigators when all other strategies have proven ineffective. For more information visit their website at http://www.heathnewton.com. To discuss a situation with one of their attorneys, please call them at (415) 398-1290.