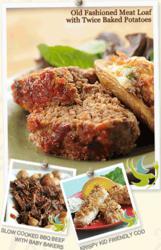 We move the tedious process of planning family meals, shopping, preparation and cleaning, over to specially equipped Bay Area stores, helping you plan and prepare easy healthy meals for you and your family
San Jose, CA (PRWEB) February 17, 2012
Since 2002, new menu entrees have debuted every month at Dream Dinners, a national chain of meal preparation companies with a local venue in San Jose that serves the entire Bay Area. During March, its anniversary month, Dream Dinners will offer selected entrees of its very best meals that have made Dream Dinners the success it is today. The local San Jose Dream Dinners will also celebrate the 10-year anniversary with a party on March 6 from 4:30 to 7:00 p.m.
The anniversary party will be a festive occasion, featuring samplings of items from Dream Dinners' menu, free raffles and door prizes, free gifts for attendees and a grand prize raffle for a $250 gift certificate valid at the Camden Park Dream Dinners. Do not miss out on the celebration or the chance to learn more about how Dream Dinners helps simplify the dinner process.
Bay Area Dream Dinners works closely with dietitians to create healthy meal plans that families can enjoy together. Guests register online for a 1.5-hour session to make nutritious recipes for the month; however, they are usually done in an hour. Customers then go to their local Dream Dinners store to assemble meals according to their family's preference. After a guest's session is completed at their local store, all she or he needs to do is to take the uncooked simple dinner meals home and freeze them. When the time comes for the client to serve the frozen meal, the meal is prepared according to the instructions on the cooking label that comes on each dinner meal.
"We move the tedious process of planning family meals, shopping, preparation and cleaning, over to specially equipped Bay Area stores, helping you plan and prepare easy healthy meals for you and your family," Paul Varenkamp of Dream Dinners said. "With Dream Dinners, life just got easier."
Dream Dinners offers a monthly menu of quick dinner ideas, including more than 17 different recipes. Customers are still making these delicious dinners each week but with the aid of Dream Dinners ahead of time, ensuring a faster and easier way to make a great meal for any family.
"I love to cook for my family--I just don't like to cook seven nights a week. With Dream Dinners, I can have a home-cooked dinner on the table but without the effort. It's the perfect solution for my busy life," said mother LeAnne Varenkamp.
For more information about its anniversary offerings or any of Dream Dinners' products or services, call 408-384-4898, view the company on the web at http://www.dreamdinners.com and http://www.simpledinnermealsbayarea.com, or visit 2013 Camden Ave. in San Jose.
About Dream Dinners
Dream Dinners is the originator of the meal-assembly concept and provides everything customers need for a nutritious and delicious meal for the entire family. Customers simply go to their local Dream Dinners store to assemble meals as they rotate from station to station, putting the different measured ingredients into supplied Ziplock bags or foil pans and packed into a cooler to be cooked at home or frozen for later. Someone else does all cleaning up after the prep work is done, allowing the customer to enjoy the simplicity of eating a healthy meal with their family.
###