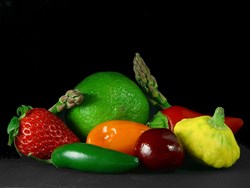 Everett, WA (PRWEB) December 07, 2013
Young parents are often unsure about what they should feed their toddler, especially with their first child. A recent publication in Pediatric Annals provides expert recommendations for toddler diets. The article, titled "Strategies and Suggestions for a Healthy Toddler Diet" was headed by Sally Schwarz, a Senior Clinical Nutritionist at Lurie Children's Hospital of Chicago. The author examines diets and nutrition in light of the National Heart, Lung, and Blood Institute (NHLBI) standards, showing specific substances to avoid. The article ends with a sample toddler diet based on the author's recommendations.
The importance of a healthy diet cannot be understated, especially during sickness season. For a list of healthy foods to boost immunity for adults, see this new article as well.
The journal article suggests that three to four food groups be included in a toddler's daily meals. Limiting saturated fat intake is one of the most emphasized points. It is suggested that parents use the lowest fat grade milk possible, because milk fat is mostly saturated fat. This helps limit the risk of early childhood heart disease and hypertension. High saturated fats in toddler diets could also lead to the early onset of coronary artery disease. Diets low in saturated fats may lead to lower long term cholesterol, however.
Avoiding excessive sugar is also important. The publication states that high sugar drinks, such as 100% juice, should be limited to 4oz. However, the main problem parents face is not necessarily avoiding junk foods. Getting toddlers to eat the right food takes time and consistency. The article says that foods may need to be introduced 10-15 times before toddlers will eat them. Although parents must be strong and consistent to promote healthy habits early on, force feeding is not advised.
To help toddlers maintain healthy eating habits, parents are encouraged to avoid allowing toddlers to snack instead of eating meals. This will lead to irregular serving sizes, and snack foods are generally high in saturated fats or sugar. Having set meal times, along with a balanced diet, will help promote consistency in toddler eating.