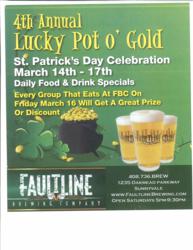 We will be featuring Irish-inspired dishes like corned beef and cabbage, and a classic Reuben sandwich, as well as Irish potato skins and other unique items
Sunnyvale, CA (PRWEB) March 14, 2012
Faultline Brewing Company, a family restaurant in San Jose is announcing its fourth annual "Lucky Pot of Gold" celebration, beginning March 14 and lasting through St. Patrick's Day on March 17.
"We will be featuring Irish-inspired dishes like corned beef and cabbage, and a classic Reuben sandwich, as well as Irish potato skins and other unique items," Christa Shaw of Faultline Brewing said. "During the four-day celebration, Faultline's Irish-style beers, the Irish red and stout, will be available all day at the happy hour price of $3.50 for a pint."
Faultline will also feature a $5 green cocktail and its famous green beer.
Try a lucky hand at Faultline's "lucky pot of gold" on March 16. Each table of guests will get to pull one card from from a pot of gold that consists of discounts from $5 to $100 and that can be redeemed on the spot. Together with Irish comfort food and live music, this event will be fun for guests, who will win great prizes while experiencing Faultline Brewing's handcrafted beers.
Located in a lakeside business park lies one of Sunnyvale's best kept secrets--Faultline Brewing Company. After opening its doors in 1994, Faultline Brewing has been supplying the Silicon Valley with spectacular handcrafted beers and delicious cuisine ever since.
For more information about the "Lucky Pot of Gold" event or any of Faultline Brewing's products or services, call 408-736-2752, view the family restaurant on the web at http://www.faultlinebrewing-bayarea.com or visit 1235 Oakmead Parkway in Sunnyvale.
About Faultline Brewing Company
Faultline Brewing Company is a brewery restaurant located in the heart of Silicon Valley in San Jose. Offering traditional comfort foods like Pot Roasts and St. Louis BBQ Ribs, Faultline Brewing also features unique dishes like its famous Tempura Ahi Rolls at this San Jose family restaurant. Beer is handcrafted on-site and features more than 20 ales and lagers throughout the year. Faultline Brewing offers catering services.
###