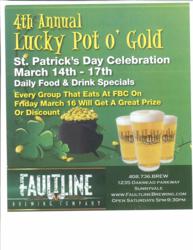 Springtime brings some of our lighter colored ales and lagers, just in time for the warmer weather
Sunnyvale, CA (PRWEB) April 14, 2012
San Jose's premier outdoor dining and family restaurant, Faultline Brewing Company, is excited to now offer two seasonal beers selections for April, the Golden Ale and the Belgian Tripel.
"Springtime brings some of our lighter colored ales and lagers, just in time for the warmer weather," Christa Shaw of Faultline Brewing Company said.
Faultline Brewing Company's Golden Ale, available on April 13, is the perfect American-style Blonde Ale to accompany a lovely spring, outdoor dining atmosphere. An easy drinking ale with a light malty body and mellow fruity hop aroma, the Golden Ale is a spring beer and a great substitute for Faultline's Kolsch beer. Pair the Golden Ale with any of Faultline's comfort food items or enjoy it during one of the family restaurant's best happy hours or live music events.
Customers may also enjoy a taste of the new Belgian Triple, a golden colored, but strong and spicy flavored, ale that was modeled after the Triple-style beers brewed by the Trappist monks in Belgium. With strong Saaz and Sterling hop flavors, this beer features the fruity esters and spicy flavors that are derived from a high-temperature fermentation of the yeast, much like Faultline's Belgian Abbey. However, this beer can be deceiving, as its light color masks the high alcohol content. The Belgian Triple is currently available.
In the process of rolling out the two new seasonal beers, Faultline Brewing Company is also saying goodbye to the Belgian Blonde and Irish Red.
"The Blonde and Red are almost gone, so those who want to taste April's Golden Ale or Belgian Triple had better act quickly," Shaw said. "Most of Faultline Brewing Company's seasonal beers come and go in under two months."
For more information, call them at 408-736-2752 or visit them on the web at http://www.faultlinebrewing-bayarea.com.
About Faultline Brewing Company
Faultline Brewing Company is a brewery restaurant located in the heart of Silicon Valley. Offering traditional comfort foods like Pot Roast and St. Louis BBQ Ribs, they also feature more unique dishes like their famous Tempura Ahi Rolls at this San Jose family restaurant. Beer is handcrafted on site, and they feature more than 20 ales and lagers throughout the year. Faultline Brewing also offers a catering service.