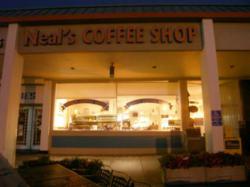 We also know that it's summer and that some people are looking to get in shape
Burlingame, CA (PRWEB) May 22, 2012
Since opening in 1996, Neal's Coffee Shop has become an award-winning diner, coffee shop and ideal lunch restaurant in the Peninsula for several years. Inspired by the everyday family cooking that the owners grew up with, this San Mateo family restaurant features a relaxed and casual atmosphere where everyone is genuinely friendly and helpful. Because it knows that people are conscious about making healthy choices, Neal's Coffee Shop is now offering a healthy diner food menu.
"We also know that it's summer and that some people are looking to get in shape," Sunil (Neal) Prasad of Neal's Coffee Shop said.
The new healthy diner food menu includes a low-cholesterol omelet, a low-fat popeye omelet, three banana buckwheat pancakes, Neal's turkey scramble, and more. All the new menu items are low in fat and have no added salt or MSG.
With two convenient locations in Burlingame and San Mateo to dish out favorite breakfast and diner meals, there's something for everyone at Neal's Coffee Shop. Why go to a chain restaurant for brunch when one can have authentic, family favorites like buttermilk pancakes, Swedish crepes, a Denver omelet or a simple and delicious ham and eggs plate with hash browns and toast? The family restaurant includes a healthy menu, a menu for seniors and a kid's menu.
For more information about the new healthy menu or any of Neal's Coffee Shop's products, call 650-692-4281, view the restaurant on the Web at http://www.nealscoffeeshop.com, or visit one of the two locations at 1845 El Camino Real in Burlingame and 114 De Anza Blvd. in San Mateo.
About Neal's Coffee Shop
Neal's Coffee Shop is a San Mateo family restaurant that serves breakfast, lunch and dinner seven days a week. Neal's menu features all-day breakfasts, a substantial lunch and dinner menu, plus healthy alternatives. Neal's has two locations, in Burlingame and San Mateo.