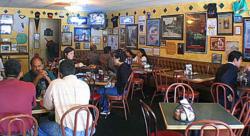 We are now one of the few dog-friendly restaurants in the Bay Area
Santa Clara, CA (PRWEB) August 19, 2011
Santa Clara's Family Restaurant, Pizz'a Chicago, serves Chicago-style, deep dish pizza, calzones, pastas, sandwiches and desserts. Now that the restaurant is dog friendly, customers can enjoy the best pizza in the South Bay while enjoying the great outdoors in the summer with their canine companions.
"We are now one of the few dog-friendly restaurants in the Bay Area," said Art Harris of Pizz'a Chicago. "As you're enjoying your great pizza, we'll be providing your dogs with water and great treats."
Voted #1 in Santa Clara County, Pizz'a Chicago serves great food in their friendly, family restaurant atmosphere. They welcome everyone to stop by and see why they're regularly selected as the best restaurant for pizza in the South Bay.
Since 1991, Santa Clara residents have been enjoying Pizz'a Chicago's straight-forward, no-fuss approach to creating pizzas. Recognized by the Santa Clara and San Jose community time and again for making the South Bay's best pizzas, Pizz'a Chicago is second to none, building a devout following with their friendly staff, welcoming atmosphere and delicious deep dish pizzas.
Pizz'a Chicago wants to create the best restaurant atmosphere in Santa Clara. Whether dining in, taking out or ordering for delivery, they make patrons feel like one of the family.
Visit Pizz'a Chicago at 1576 Halford Ave. Santa Clara, CA 95051 or call 408-565-8457 for inquiries. Orders can be made online at http://www.pizzachicagoonline.com.
About Pizz'a Chicago.
Pizz'a Chicago in Santa Clara has been recognized as one of the South Bay's best pizza makers and restaurants. Featuring delicious Chicago-style deep dish pizzas, Pizz'a Chicago is unrivaled in their pizza quality, excellent service and warm, inviting atmosphere. Pizz'a Chicago also provides take out, delivery and catering services, in addition to their dine-in service.
###