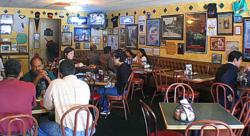 Set up a corporate account with Pizz'a Chicago to make your corporate catering events a breeze
Santa Clara, CA (PRWEB) December 01, 2011
Pizz'a Chicago a Santa Clara family restaurant is now delivering their entire menu for company parties during the holidays. They will deliver to all of Santa Clara and Sunnyvale from 11am to 10pm and will accept last-minute orders.
"Set up a corporate account with Pizz'a Chicago to make your corporate catering events a breeze. Once you set up a corporate account with us, you can order as much as you like for any number of events. We'll save the bill for later," says Art Harris of Pizz'a Chicago.
Every year, Pizz'a Chicago hosts a food drive for the Second Harvest Food Bank. Starting now through December 31, Pizz'a Chicago will take $2 off every order for anyone who brings in non-perishable food for the food drive.
Since 1991, Pizz'a Chicago has amazed Santa Clara residents with their straight-forward, no-fuss approach to creating the most delicious gourmet pizzas around. Recognized by the Santa Clara and San Jose community time and again for making the South Bay's best pizzas, Pizz'a Chicago is second to none, building a devout following with their friendly staff, welcoming atmosphere, and mouth-watering deep dish pizzas.
For more information on Pizz'a Chicago, call (408) 565-8457 or visit them online at http://www.pizzachicagoonline-santaclara.com. Pizz'a Chicago is located at 1576 Halford Avenue Santa Clara, CA 95051.
About Pizz'a Chicago
Pizz'a Chicago in Santa Clara has been recognized as one of South Bay's best restaurants and pizza makers. Featuring delicious Chicago style deep dish pizzas, Pizz'a Chicago is a family restaurant unrivaled in their pizza quality, excellent service, and warm and inviting atmosphere. Pizz'a Chicago also provides take out, delivery and catering services, along with dine-in service.
###