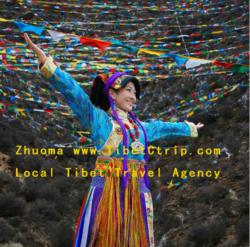 Family travel in Tibet is with ease and fun! Local travel agency in Lhasa has many offers for travelling families.
Lhasa, Tibet (PRWEB) June 08, 2013
Tibet family tours are available now. Lhasa based Tibet travel agency, Tibet Ctrip Travel Service-TCTS, has been working to make Tibet tours more affordable and accessible to families. A rapidly evolving tourist infrastructure has made travel to, from, and within Tibet nearly as easy as any other of Asia's most popular destinations. TCTS is able to provide a flexible tour schedule with knowledgeable local guides that are great with children. Through years of experience operating family trips of Tibet, TCTS seamlessly takes care of details such as travel permits and hotels, giving travelling families a much-needed opportunity to relax and enjoy an unforgettable vacation.
Families who plan an extensive Tibet tour will find no shortage of family friendly options. When planning a vacation, families can focus on their interests firstly and then begin to plan an itinerary that includes the places they want to visit. For families traveling with younger children, it is good to visit places with more comfortable accommodations, while for families with older children the trip may be able to be a bit more adventurous. Also, Tibet is a large country so car rides can be long. Families looking to avoid long car rides and enjoy comfortable accommodations will enjoy places such as the Yarlung Valley, Shigatse, and Gyantse. More remote destinations such as Mt. Everest or Mt. Kailash require two or more days of driving and options for accommodations may be more limited. TCTS is more than happy to offer suggestions and customize any tour to meet a travelling family's needs.
Lhasa is a great starting point for most family Tibet trips. Several flights arrive every day from a variety of major Chinese cities such as Chengdu, Xi'an, Beijing, Shanghai and so on, while flights from Kathmandu arrive at least three times a week during the travel season. Relative to the rest of Tibet, Lhasa's sits at a lower altitude giving travelers an opportunity to acclimatize before making the trip to higher altitude locations. A family's native Tibetan guide will pick them up from the airport and accompany them to their hotel for relaxation and acclimatization. The first few days are spent in Lhasa while touring must-see cultural and historical sites such as Potala Palace, Jokhang Temple, and Barkhor Bazaar. Even families on a tight schedule will find that just a few days in Lhasa provides countless opportunities to learn about Tibetan culture and see every day Tibetan life.
A family tour of Tibet is certain to create lasting memories and is great for teaching children about foreign cultures. With TCTS's experienced tour staff, family members will be able to relax and enjoy the mountain scenery without worrying about travel details. A four or five day tour of Lhasa and the surrounding area is perfect for tight schedules and overland tours lasting up to three weeks or more can be arranged for those seeking an in-depth experience. The majority of tours have a flexible schedule so families aren't rushed at Tibet attractions and are free to take breaks on long drives. With the best Tibet weather arriving now, families are advised to start planning their tour!
Tibet travel Service TCTS Contact Address:
Post Address: Tibet Niwei International Travel Service, Co., Ltd (Niwei Building Room 302, No.13 North Linkuo Road, Lhasa, Tibet)
Tel/Fax (Lhasa area code):86-891-6342607, Mobile: 86-13628999610 (Tony), Post Code: 850000
Email: sales (at) tibetCtrip (dot) com, TibetCtrip (at) gmail (dot) com