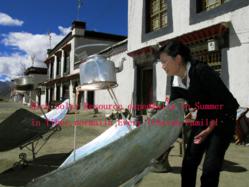 2013 Quality Family tour of Tibet at affordable prices with local professional Tibet travel agency: www.tibetctrip.com.
(PRWEB) April 19, 2013
Lhasa based Tibet tourism agency, Tibet Ctrip Travel Service-TCTS (http://www.tibetctrip.com), has updated its selection of family friendly tours. A well-developed tourist infrastructure has made travel in Tibet easy; a network of paved roads across Tibet and hotels have been built with foreign travelers in mind. TCTS is experienced in working with traveling families and understands their needs; private tours with native Tibetan guides give travelers the flexibility they need to enjoy their tour without the rushed feeling of crowded group tours. Some of TCTS's most popular family tours include:
Lhasa Culture Tour: This tour is great for traveling families on a tight schedule. Lasting anywhere from four to five days, families can get a taste of Tibetan culture and history before moving onto their next destination! Some of the must-see Tibet attractions include Potala Palace, Barkhor Bazaar, and Jokhang Temple. In addition, many traveling families enjoy making the day trip to Lake Namtso or visiting Sera Monastery to see the famous debating monks.
Mt. Everest Base Camp Tour: Over eight to ten days, traveling families will not only visit the world's tallest mountain but also have several opportunities learn about Tibetan culture. After spending time exploring Lhasa and acclimatizing to the altitude the tour heads for Mt. Everest. The drive takes two days; along the way travelers will see Lake Yamdrok and stop in Gyantse, to visit Kumbum Pagoda and Pelkhor Monastery, then Shigatse to spend the night and tour Tashilhunpo Monastery. The Tibet tour arrives at Everest Base Camp in the afternoon; here families can stay in one of the tent camps and enjoy early morning views of the mountain before heading towards Lhasa.
Tibet travel is a great way to create lasting memories and teach children about foreign cultures. TCTS's experienced tour staff allows families to relax by taking care of details like Tibet travel permits and hotels. Most family tours, including the ones mentioned here, are customizable and allow for a flexible schedule so travelers don't feel rushed. TCTS welcomes any and all questions. With summer right around the corner, families are advised to start planning their tour soon.
Devin Moore provided this news release above on behalf of local Tibet tour agency TCTS (tibetctrip.com). Devin is a travel writer and independent economic analyst based in Springfield, Missouri USA. His economic research is currently focused on airfare pricing. Devin Moore works to spread awareness of Tibet and its people through publishing Tibet travel information.