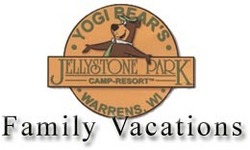 The first changes I wanted to make after purchasing the campground were to improve customer service and find a way to market the existing facilities
Warrens, Wis. (PRWEB) October 3, 2007
The Warrens Yogi Bear's Jellystone Park Camp-Resort is turning heads and turning big profits. Once just a 500-site campground, this camp-resort has been transformed into a one-stop family vacation destination.
While the most significant renovations have taken place within the last three years - a more than $75-million investment - owner Ed Van Der Molen has been making facility improvements since he purchased the 170-acre Yogi Bear-themed campground in 1989. The many additions over time have included 100 additional campsites; 90 cabins; 190-room lodge and conference center; restaurant; and the Neighborhood Skatepark. Understanding families' desire for a water-filled vacation, Van Der Molen also has built a 48,000-square-foot indoor water zone and two outdoor water recreation areas.
"The first changes I wanted to make after purchasing the campground were to improve customer service and find a way to market the existing facilities," said Van Der Molen. "However, after achieving these goals, I realized there were still ways to bring in more people and increase revenue."
In 1994, Van Der Molen developed a business plan to improve profit by building additional rental units. "The cabins were always booked for the entire season six months in advance," Van Der Molen explained. "So, we decided to build more cabins, and over a period of five years, we brought our total number of rental units to 100. Business more than tripled in revenue."
Other improvements to the grounds were made over the years, but the businessman in Van Der Molen knew that in order to continue increasing revenue and meeting demand, he needed even more rental units. And so this year was born the 190-room Three Bears Lodge and Indoor Water Resort.
"The indoor water facility was essential in order to draw visitors in the off-season," Van Der Molen said. "The décor resembles a picnic area in a forest, because people love the Yogi experience. And we love that people can enjoy this part of our camp-resort year-round.
The Timber Falls Indoor Water Resort includes a wave pool, lazy river, activity pool, indoor/outdoor hot ponds, Yogi's Picnic Splash with four kiddie waterslides, four mega waterslides and Water Wars. The Warrens Yogi Bear Jellystone Park Camp-Resort also features more relaxed water fun with a lake and sandy beach. In addition, Warrens is host to the largest hybrid skatepark in the Midwest, a 25,600-square-foot facility.
"Warrens is definitely not your run-of-the-mill campground," comments Rob Schutter, president and COO of Leisure Systems, Inc., which franchises the Jellystone Park system. "The success of this camp-resort is evident. Occupancy is up more than 80 percent over last year, and advance reservations are continuing to increase for the season and beyond."
Van Der Molen also has realized the importance of the Internet, even among people booking family camping trips. So a recent investment has included reaching a mass audience by partnering with a variety of travel Web sites. The Warrens Jellystone Park Camp-Resort and Three Bears Lodge and Villas is now featured on more than 200 travel sites, including Expedia, Travelocity and Travelzoo. With a Web site (http://www.jellystonewarrens.com) packed with photos, virtual tours and online reservation capabilities, Van Der Molen says that while only 10 percent of all park visitors are currently making online reservations, nearly 75 percent use the Web site as part of their vacation decision-making process.
For more information, to take virtual tours or to make reservations at Jellystone Park Warrens Camp-Resort, visit http://www.jellystonewarrens.com. The destination also can be accessed through travel sites across the Web by searching for Three Bears Lodge and Villas.
About Jellystone Parks™
Launched in 1969 by D.M. Haag, the Jellystone Park system is now the second largest chain of campgrounds in the United States, boasting more than 70 campgrounds with more than 15,000 campsites in 26 states and Canada. Its Camp-Resorts are among the best campgrounds in the industry with a quality reputation for being fun, friendly, clean and service-oriented parks that on average have a higher revenue per site night and a longer average stay than that experienced by other campgrounds - independent or franchised. Additionally, each Jellystone Park is themed with Yogi Bear elements providing instant recognition and consumer appeal. It is truly a place "Where You Camp With Friends."®
Yogi Bear Jellystone Parks are franchised through Leisure Systems, Inc. (LSI), a wholly owned subsidiary of The Park River Corporation, Cincinnati, Ohio. For more information about Jellystone Parks, visit http://www.campjellystone.com
###