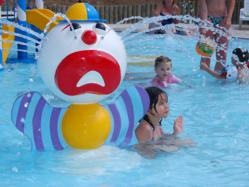 ...I know from experience that it's the kids that really sway your decision.
London, England (PRWEB UK) 27 August 2012
In a survey conducted by the camping holidays specialist earlier this month, 934 respondents offered an insight into the discussions they have at home when considering their annual break. And it may not surprise anyone with young to teenage children that by far the most popular answer was 'the kids decide where we go'.
'Having two young children myself, I know from experience that it's the kids that really sway your decision.' mentioned I Spy Camping's Will Goodridge. 'However, it is really important that the holiday is not just about the kids; there has to be something for everyone to enjoy.'
'Camping holidays are perfect for that, if you choose from a range of campsites in Europe with good facilities and a programme of activities or close to a town or area that has these, everyone will find something. It takes a little more planning, but it's worth it – we all need good break from work.' continued Goodridge.
The full results were as follows. 43% - The kids decide where we go; 21% - We parents decide; 18% - The kids have an input but we have the final say; 14% - It's mum or dad who decides; 3% - We take it in turn each year to decide. 1% - Other.
Amongst the respondents, I Spy Camping came across some interesting ideas that may help other families. Eleanor from Somerset 'We decide where we are going, but once we get there we always play a game, where we leave where we are and the kids get to choose in turn, left, right or straight on, and see what we can discover!' Claire and her husband from South Wales let their baby decide 'Our son picks out of 2 choices given to him by daddy and myself.' And Linda from Yorkshire uses gentle persuasion 'It's a joint decision between ourselves and the grandchildren, usually they like what we suggest... eventually.'
For more tips, comments and ideas for family camping holidays, please visit http://www.ispycamping.com
Notes to editors:
About I Spy Camping
ISpyCamping.com is the only website to bring together the UK's leading camping operators with French and Dutch companies including Vagues Oceanes, Mistercamp, Village Center and Vacances Directes who are easily available to UK families for the first time. Well-known brands including Eurocamp, Selectcamp, Keycamp and Canvas are also available.
European family holiday specialist I Spy Camping makes it easy to find and compare 150,000 holidays at more than 650 campsites in France, Spain, Italy, Portugal and Croatia. The company launched in November 2010 and was shortlisted for a Travolution Travel Pioneer award in its first year.