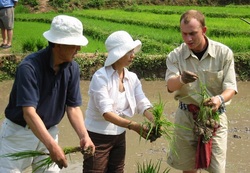 We've got all the details taken care of to ensure that each family member enjoys their trip to Asia. Not only have we tailored the touring to suit younger travelers but we've also chose our most enthusiastic guides, selected the best accommodation for kids and kept traveling time to a minimum
Bangkok, Thailand (PRWEB) March 18, 2010
Exotissimo Travel, Southeast Asia's leading destination management company, has launched a new range of family tour packages specially tailored to include activities that will be interesting for all generations.
Ranging from four to nine days, these unique packages are filled with entertaining excursions that will amuse younger travelers while giving the entire family a chance to learn about the local culture in authentic, interactive ways.
"We've got all the details taken care of to ensure that each family member enjoys their trip to Asia. Not only have we tailored the touring to suit younger travelers but we've also chose our most enthusiastic guides, selected the best accommodation for kids and kept traveling time to a minimum," says Anne Cruickshanks, Exotissimo Group Product Manager.
Exotissimo's family travel collection includes a range of tours, such as the following four itineraries which can be customized to suit each family's needs and travel styles. Exotissimo can also design a program based around particular interests such as sports, animals and nature or culture.
Luang Prabang Family Adventure - This four-day program includes sightseeing by electronic bike, an early morning alms donation ceremony, a game of petanque with locals and an excursion to explore Kuang Si Waterfalls. The third day features a Mekong River cruise and an overnight stay in a safari-style lodge where families can plant rice with local farmers, pan for gold in the river or embark on hilltribe-guided forest treks. The detailed itinerary can be viewed at: Luang Prabang Family Holiday Tour
Angkor Family Holiday - Highlights of this family itinerary include meeting Cambodian children in a village school, a monk's blessing ceremony in a local temple, an elephant ride across the jungles of Bayon temple and a boat trip on Tonle Sap Lake. Of particular highlight is the treasure hunt in which the entire family embarks on a fun-filled quest in the Ta Prohm temple ruins where the 'Lara Croft' movie was filmed. The detailed itinerary can be viewed at: Angkor Family Tour
Chiang Mai Family Adventure - Incorporating a blend of soft adventure and opportunities for culture discovery in Northern Thailand, this four-day tour starts with a private monks' blessing ceremony followed by a village homestay with a local family. It also showcases Chiang Mai's natural beauty with a bike ride across the countryside, a river rafting excursion and an optional forest canopy zip-line tour. The detailed itinerary can be viewed at: Chiang Mai Family Adventure
Mekong Delta Family Holiday - This Southern Vietnam trip begins with an overnight cruise through the Delta's winding canals, riverside villages and the bustling Cao Rang floating market. The trip returns to land for a morning of cycling around Can Tho's quiet back streets followed by a local family homestay to learn traditional Vietnamese culture and lifestyles before returning to Ho Chi Minh City. The detailed itinerary can be viewed at: Mekong Delta Family Holiday
South Vietnam Family Adventure - Featuring a broad range of experiences, this nine-day program kicks off with a day of touring in Ho Chi Minh City with a visit to the Cu Chi tunnels and a Chinatown tour by local xe lam truck, then heads to the Mekong Delta for an overnight cruise and homestay. Flying north to Dalat, families will spend half a day exploring the caves and waterfalls in the highlands before continuing to Nha Trang by bike and raft where they can relax on the beach for two days. The detailed itinerary can be viewed at: South Vietnam Family Adventure
To view Exotissimo Travel Family Tours Collection in full, visit: Exotissimo Travel Family Tours Collection
About Exotissimo Travel
Exotissimo Travel is a premier destination management company that specializes in tailor made tours in Vietnam, Thailand, Cambodia, Laos, Myanmar and Indonesia. Established in 1993, the company is now a network of 17 locally-based offices staffing over 500 travel professionals, with sales offices in San Francisco, Paris, Berlin, Barcelona and Sydney. For more information, please visit Exotissimo Travel
###