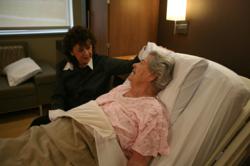 "The role of the family caregiver is to be an advocate for the senior,"
Omaha, NE (PRWEB) June 16, 2011
It's the midnight call that family caregivers dread most. Mom has had a stroke. Dad has forgotten to take his medications or accidentally overdosed.
At that moment, family caregivers need information and they need it fast. That's where a new information management tool developed by the Home Instead Senior Care® network and Humana Points of Caregiving® can help, along with other resources that are part of the Answering the CallSM program. The Senior Emergency KitSM is designed so that family caregivers can keep a senior's health information in one location – doctors' names, pharmacy and insurance company, medications and dosage details as well as allergies and conditions, and other important financial and end-of-life information.
Having important medical and legal information at their fingertips can help adult sons and daughters avoid some of the apprehension that comes with being a caregiver. Advance preparation and good communication with a senior's doctors also can help prevent accidents.
Safe medication management involves give and take between the patient, his or her doctor and pharmacist. Seniors also can benefit from the presence of a family member or friend to make sure they are asking a doctor or pharmacist the right questions.
"The role of the family caregiver is to be an advocate for the senior," said Thomas Clark, RPh, MHS, CGP, director of Clinical Affairs for the American Society of Consultant Pharmacists and the ASCP Foundation, who served as an expert source for the Answering the Call program. "Assuming older adults want assistance, it's good to have a family member go with them to ensure the doctor's recommendations can be reinforced and followed when the senior gets home."
When family members can't be there, CAREGiversSM from Home Instead Senior Care often are called upon by family members to accompany an older adult to the doctor, serving as a second set of eyes and ears.
Pharmacists are another important source for medication information. They can answer questions about the medications being prescribed, but cannot discuss diagnoses. Consider the following important information that seniors should share with their doctors, from the Home Instead Senior Care network and the American Society of Consultant Pharmacists (ASCP).
Seniors should:
1. Tell the doctor about all the medicines they are already taking. This includes prescription medicines and the medicines they buy without a prescription, such as aspirin, laxatives, vitamin supplements and home remedies. It's helpful to take along a written list or the medication tracker from the information management toolkit.
2. Tell the doctor what is important to them about their medicines. They may want a medicine with fewest side effects, or fewest doses to take each day. If they have trouble swallowing, a liquid form of medicine might be best. If cost is a concern, there may be a generic drug or another lower-cost medicine, or they may want the medicine the doctor believes will work best.
3. Tell the doctor if they have any allergies to medications or if they have had any troubling side effects from medicines.
4. Tell the doctor if they have any illnesses or problems for which another doctor or health professional is treating them.
5. Tell the doctor if they are not taking the medicine as directed. For example, some people may stop taking their medicine, take a lower dose or skip doses if they are having side effects. The doctor needs to know about any changes in their treatment plan. Guilty feelings or embarrassment should not keep them from telling the doctor this important information.
Families and their older loved ones also can benefit from a senior care pharmacist. For more resources to help families know where to go, visit the Senior Emergency Kit website.
ABOUT HOME INSTEAD SENIOR CARE
Founded in 1994 in Omaha by Lori and Paul Hogan, the Home Instead Senior Care® network is the world's largest provider of non-medical in-home care services for seniors, with more than 900 independently owned and operated franchises providing in excess of 45 million hours of care throughout the United States, Canada, Japan, Portugal, Australia, New Zealand, Ireland, the United Kingdom, Taiwan, Switzerland, Germany, South Korea, Finland, Austria, Italy and Puerto Rico. The Home Instead Senior Care network employs more than 65,000 CAREGiversSM worldwide who provide basic support services – activities of daily living (ADLs), personal care, medication reminders, meal preparation, light housekeeping, errands, incidental transportation and shopping – which enable seniors to live safely and comfortably in their own homes for as long as possible. At Home Instead Senior Care, it's relationship before task, while continuing to provide superior quality service that enhances the lives of seniors everywhere.
###