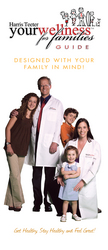 With the increase in the childhood obesity rate we realized how important it was to develop a program that parents and children can do together
Charlotte, NC (Vocus) January 5, 2009
But what to my wondering eyes should appear but Harris Teeter's free yourwellness for families program just in time for the New Year!
Harris Teeter shoppers' lead busy lives and health matters often take a back seat during these demanding times. Harris Teeter, therefore, is making it easier for our shoppers to put their family's health first and is offering a new and free yourwellness program to our shoppers. On January 1, the company is launching its yourwellness for families program, designed to help our shoppers and their families get healthy, stay healthy and feel great.
"With the increase in the childhood obesity rate we realized how important it was to develop a program that parents and children can do together," said Russell Greenfield, M.D. "Our new program is a life enhancement program, not simply a weight management program, though aspects of it can be used to help any member of the family achieve and maintain a healthy body weight," added Greenfield.
The yourwellness for families guide is free and available in all Harris Teeter stores. The booklet takes participants through a 15-week program designed to optimize health and well-being by offering nutrition information, stress management techniques, menu planning, recipes, a walking program and so much more. Shoppers can also download the 15-week point tracker, 7-Day Meal Plan, and the free yourwellness for families brochure at harristeeter.com.
In addition, beginning January 1st, the Harris Teeter yourwellness team will begin to offer free yourwellness e-letters. Shoppers can sign up to become a yourwellness e-letter member at harristeeter.com. Members will receive a bi-monthly e-mail newsletter personally crafted by Dr. Russ and Beth Avery, a certified nutritionist. The yourwellness e-letters will contain the latest health information shoppers can use to optimize health and wellbeing. The e-letter will also include yourwellness cooking demonstrations, an informational video from Dr. Russ, and member only discounts.
yourwellness for families will also be complimented by an in-store program already available to our shoppers. Currently in Harris Teeter stores, shoppers can find a growing number of affordable healthy foods to enjoy, wellness keys on product packaging and shelf tags throughout the store. Examples of wellness keys and shelf tags include sugar free, fat free, low calorie, and heart healthy designations that can be found on our "Own Brand" products. Shopping for food with wellness keys and shelf tags helps save you time, because the Harris Teeter yourwellness team has done much of your healthy meal homework for you.
Harris Teeter is committed to providing its customers with the best shopping experience possible. The yourwellness for families program is just another way to show shoppers that we care. This program is for informational purposes and should not be considered medical advice. Harris Teeter would like to encourage its shoppers to check with their doctor before making significant lifestyle changes.
Harris Teeter, Inc. with headquarters in Matthews, NC, is a subsidiary of Ruddick Corporation (NYSE:RDK). Harris Teeter is the 21st largest supermarket in the United States with 2008 sales of $3.99 billion. The grocery store chain employs over 21,000 associates and has 176 stores in North and South Carolina, Virginia, Georgia, Tennessee, Maryland, Delaware, Florida, and the District of Columbia.
###