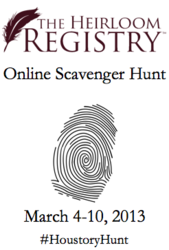 "I'm excited to participate in this fun hunt that will get people excited about their family history, help them learn more about The Heirloom Registry and give them opportunities to win great prizes." -- Genealogist, author Janet Hovorka
Ferndale, Wash. (PRWEB) February 28, 2013
Nationally respected genealogy experts and authors Maureen Taylor and Janet Hovorka are the latest sponsors of Houstory's Heirloom Registry Scavenger Hunt, which runs March 4-10.
Hovorka, who is currently president of the Utah Genealogical Association, has donated a copy of both her new book, "Zap The Grandma Gap," as well as an accompanying workbook. Hovorka said "Zap The Grandma Gap" was created to help people connect with their family by connecting them to their family history.
Taylor will be contributing a copy of her book, "Preserving Your Family Photographs." The book teaches family historians how to take care of their photo collections, and safely preserve these important pieces of history for the future.
"Both Janet and Maureen are well-known figures in the genealogy and family history communities" said Dan Hiestand, Houstory marketing director. "Their passion for genealogy and historical preservation is evident in their writing. Each book would be a valuable addition to any family historian's tool kit."
Taylor said The Heirloom Registry provides a valuable service for most anyone who appreciates family history.
"We all have family heirlooms – large or small – that need saving for the next generation," said Taylor.
Hovorka said she is, "passionate about the nutrition family history brings to the soul." The Heirloom Registry – and the scavenger hunt – may help people tap into that sentiment, she said.
Said Hovorka: "I'm excited to participate in this fun hunt that will get people excited about their family history, help them learn more about The Heirloom Registry and give them opportunities to win great prizes."
About Janet Hovorka
Janet Hovorka and husband Kim Hovorka own Family ChartMasters (http://www.familychartmasters.com). They are official printers for most of the genealogy software and database companies, and pride themselves on being able to print *any* kind of genealogy chart – ranging from beautiful fine art pieces to 600-foot family reunion charts. Janet is a prolific genealogy lecturer, and is the author of "Zap The Grandma Gap," a book/workbook series she created to help people connect with their family by connecting them to their family history. She also writes the award-winning "The Chart Chick" blog (http://www.thechartchick.com), the new "Zap The Grandma Gap" blog (zapthegrandmagap.com), and has written for numerous genealogy publications. She is currently serving as president of the Utah Genealogical Association and teaching genealogy at Salt Lake Community College.
About Maureen Taylor
Maureen Taylor, known as "The Photo Detective," is a genealogist, author, and speaker. Taylor is an internationally recognized photo identification and family history expert, and the author of a number of books and magazine articles. She has been featured in the Wall Street Journal, Hallmark Television, The View, Better Homes & Gardens, the Boston Globe, Martha Stewart Living, MSNBC, PBS Ancestors, and more. Her second volume of her popular book, "The Last Muster," will be available in May, and her new book "The Family Photo Detective" is now available. She is also in the process of working on a television-style documentary based on the stories behind the photos of the Revolutionary War-era men and women featured in "The Last Muster." For more information, visit http://www.lastmusterfilm.com. To help support this important project, visit the film's Kickstarter page.
About The Heirloom Registry
The Heirloom Registry is a new service from Houstory. Record a family heirloom's history in The Heirloom Registry, and its story travels with it. Always. Inexpensive, simple: Tag heirlooms with Registry IDs, and share stories in words and pictures at heirloomregistry.com. Registered stories are permanently accessible to future owners.
###