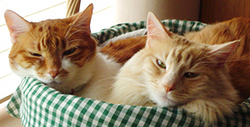 Twelve Family Holiday Traditions That Help Homeless Pets
Santa Fe, NM (PRWEB) December 8, 2008
Homeless and needy pets are facing a bleak future in our economic turmoil. Donations to animal shelters are down, and many financially strapped pet owners are surrendering their pets to shelters that are already full.
When asked what they most like or remember about past holidays, adults and kids usually respond with fond memories of traditions or family activities rather than gifts they received. What could be more memorable and meaningful than giving the gift of life to homeless and needy pets? The love and companionship of pets represent the true meaning of the season. Families can start holiday traditions to help these pets.
The website Animal Shelter Tips has posted the article, "Twelve Family Holiday Traditions That Help Homeless Pets", to help parents, grandparents, aunts, uncles, and kids find ideas for family activities, including:
Consider dividing the amount spent on kids between traditional gifts and donations to the local animal shelter to help homeless pets.
For example, print a photo of a homeless dog from the local shelter on photo sized paper and place that photo in a card or wrapped gift. Include a note with wording such as "Bobby, your Aunt Jenny sent a donation in your name that will feed me for three months. I'm an eight year old sweetheart of a black Lab still waiting for my forever home. This helps me so much. Thank you! Zack."
Sponsor a kids' Christmas party at home on behalf of the local animal shelter's pets.
Each child can bring pet food from the shelter's wish list. Match the kids' contribution of food pound per pound. Ask friends to do the same with their kids and make it a competition between families, neighborhoods, etc.
Aunts and uncles, as well as grandparents, often struggle with gift ideas and activities for kids in the family. Start a tradition of helping homeless and needy pets with younger family members.
For example, an aunt can take her niece shopping for pet food for the local shelter. Take the shelter's wish list on the shopping trip as well as a photo of a shelter dog or cat. Go together to deliver the food. Call ahead and ask to walk a shelter dog or help socialize a shelter cat. This activity, together with lunch, a movie, or a visit to see Santa, will create memories for both aunt and niece as well as teach the youngster how much our homeless friends need help.
Does your family draw names for holiday gifts? Ask for volunteers (probably adults) to withdraw their own names and substitute pets' names from your local animal shelter. Include a photo of the pet, its name, age, and a food preference on a card.
The person who draws a pet's name can buy pet food. Make sure the kids in the family understand that family members gave up gifts for themselves so homeless pets can be fed. Take the kids along when the items are delivered to the shelter.
More ideas are listed at Twelve Family Holiday Traditions That Help Homeless Pets.
Holiday ideas just for kids are listed at Twenty Ways Kids Can Share the Holidays with Homeless Pets.
Combining holiday traditions with helping homeless and needy pets could be one of the best reminders that it's better to give than receive.
About Animal Shelter Tips:
Website author Cathy Grace was inspired to launch Animal Shelter Tips by the homeless pets she's adopted. Her work background is in marketing and publishing, but her passion is her animals. She's welcomed into her home cats from the Santa Fe, New Mexico, Animal Shelter and Humane Society, the no-kill shelter Operation Kindness in Carrollton, Texas, as well as a kitten appearing at her doorstep in Evergreen, Colorado.
###