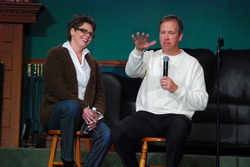 "This is perhaps the funniest, and certainly the most moving, project I've ever been a part of." It is also the first time that Jeff and Tami share the stage and open up about how "we brought our marriage to the brink of divorce."
Nashville, TN (PRWEB) July 14, 2010
Imagine a raging-alcoholic-turned-born-again-Christian funny enough to make you fall out of your chair, and moments later, so moving that you must reach for a Kleenex. But this intimate performance with Jeff Allen and his wife, Tami, was never intended for general distribution. For one thing, it was Tami's first time on stage. For another, one of the terrible secrets Tami shared had never been publicly disclosed.
In a recent interview Jeff Allen reveals, "Guardian was supposed to just capture some shots for fill-in on another project. When they said they wanted to release it I said I had to talk to Tami. I asked her if she would be OK with our lives being stripped bare on national television. She said if you think it will minister to people and make a difference, go ahead."
Amusing Grace
"Jeff Allen is the best one-two punch in the Christian world," says manager Lenny Sisselman. "He opens your heart and mind with hilarious, world-class comedy and then he gives his testimony of a near-ruined life redeemed by God. Nobody can do what he can do. If Jesus Christ returned to give a sermon, Jeff could open for Him."
My Heart, My Comedy DVD has been Jeff Allen's best selling DVD, but it's never been released on national radio in its entirety. Focus on the Family will be broadcasting "My Heart, My Comedy" coast-to-coast. Please check for times and stations broadcasting in your area.
In the aforementioned interview, Jeff Allen talks about the people that have had an impact on him, from the TV personality who got him into Alcoholics Anonymous to the unsuspecting attendees at Gaither performances. "For years I performed with the Gaithers, who have a large and typically more mature following. We'd look at so many older couples who'd been together for 30, 40, 50 years and Tami would get teary eyed, and both of us would think: that's the way it's supposed to be. Simply the way you live your life is going to affect the people with whom you come into contact."
High resolution photos of Jeff and Tami.
Video clips of Jeff Allen performing.
###