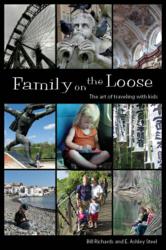 This book is told from an educator's AND a parent's perspective – the definitive guide to family travel...It will open the world to your family in a way that you never thought possible. - Blogcritics.org
Bellevue, Wash. (PRWEB) January 23, 2013
Seattle-based authors Bill Richards and E. Ashley Steel are proud to announce the publication of their new book, "Family on the Loose: The Art of Traveling with Kids." This recently published book revolutionizes family trips by empowering parents to engage their children in all phases of travel. Each chapter provides parents with hundreds of enriching ideas to help keep their children entertained and interested in any family trip.
Authors Richards and Steel promote true cross-cultural education by providing an educator's insight to family travel. Whether families choose to travel to Vienna, Austria or to an ethnic neighborhood near home, parents and children alike must be prepared. "Family on the Loose" focuses on all steps: before, during and after a family trip. The authors provide advice on everything from how to teach children to pack their own suitcases to keeping everyone interested and focused in a dimly lit museum exhibit.
Highlights of "Family on the Loose" include dozens of ideas for pre-trip arts and crafts, mapping projects, and fiction reading; packing lists, even for non-readers; quiet airport and plane activities; creative journaling ideas, with tear-out pages; city scavenger hunts and travel bingo; a finale section to help make the memories stick; and ideas for cross-cultural exposure close to home. The layout and design of the book make it easy to read whenever or wherever the family may be.
As more and more families choose to travel together each year, "Family on the Loose" will quickly become the go-to guide for parents and educators. In fact, many readers are already raving about the book. The book has already received nine five-star reviews on Amazon.com.
"A family travel Bible, of sorts" - Parenting.com
"It's not only a guide to family travel – it's a complete guide to being an interesting, engaged, and intercultural family" - WanderingEducators.com
"Chock full of excellent advice about traveling with kids" – MotherofAllTrips.com
To purchase "Family on the Loose: The Art of Traveling with Kids," please visit Amazon.com. Paperback versions are available for $13.95. The Kindle edition is $9.49.
About the Authors: Bill Richards and E. Ashley Steel are well-traveled parents with a slew of scientific publications, newspaper articles, a Luce Fellowship, a Fulbright Fellowship, and published science curriculum under their belts. Together they host a successful blog, http://www.familyontheloose.com, full of local adventures, travel tips, and travel stories.